- Sen. Antonio Trillanes IV lauded the Ombudsman's filing of corruption charges against former Vice President Jejomar Binay
- Trillanes, who has been a vocal critic of Binay, said that the charges prove that the investigation he initiated in 2014 was not politically motivated
- Former VP Binay was traced to have links to the 'overpriced' Makati City Hall Building II constructed during his term as Makati City mayor
After the Office of the Ombudsman officially filed corruption cases against former Vice President Jejomar Binay, Senator Antonio Trillanes IV immediately lauded the agency's move.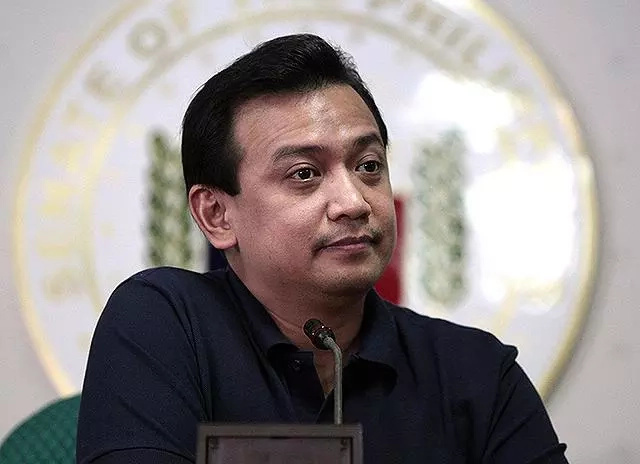 It was Sen. Trillanes who initiated senate investigations over corruption allegations attached to Binay as early as 2014.
As a response, Binay claimed that Trillanes' move was politically motivated. He insisted that it was only propaganda against his presidential bid in the recent national elections, and refused to attend the senate hearings.
READ ALSO: Ombudsman files criminal charges vs ex-VP Binay
However, the defeated vice presidential candidate said that the filing of charges proved that the senate probe he launched against Binay was not politically motivated, "finally! This proves that the Senate investigations we conducted against him weren't just political," said Trillanes.
Trillanes ran for vice president independently, but lost to Liberal party bet Leni Robredo.
On the other hand, at the onset of the election season, Binay was leading the polls, but was also defeated by President Rodrigo Duterte who won a landslide victory.
READ ALSO: Ombudsman files raps against suspended mayor
The charges filed by the office of the Ombudsman against Binay on Thursday include graft, violation of the Government Procurement Act, falsification of public documents over the anomalous Makati City Hall Building II.
Ombudsman Conchita Carpio Morales earlier said that there's probable cause to file a case against the former vice president, and that the charges were already expected to be pressed once Binay stepped down from office.
Morales also said that her office is still investigating Binay for plunder; an offense committed by a public officer whose corruption activities generated 50,000,000 php in aggregate.
READ ALSO: Ombudsman to go after Binay
The camp of the former vice president already released their response saying that the charges are only made to politically harass Binay. They even suggested that the filing of charges was done in the interest of the Liberal party. -Kami Media
Source: Kami.com.ph