- Calvin Harris went on the defensive and explained that while Taylor Swift wrote the lyrics to 'This Is What You Came Here For' he single-handedly completed the production of the song
- Harris and Swift broke off the relationship early June after dating for a year and Swift has since moved on to British actor Tom Hiddleston
- 'This Is What You Came Here For' is Harris and Rihanna's third song collaboration following the global chart-topper 'We Found Love' and the Billboard top-five single 'Where Have You Been'
Taylor Swift and Calvin Harris have called it quits but the rumors and speculations about their relationship keep growing every day.
While Harris is largely silent about his ex-girlfriend's new and highly-publicized relationship with Tom Hiddleston, he came out of hiding after Swift's representatives went on record with Rolling Stone magazine to say that she wrote 'This Is What You Came Here For' under the pseudonym Nils Sjoberg.
To protect his artistic stake on the song, Harris went on a Twitter rampage blasting the 26-year-old singer-songwriter regarding the alleged publicity stunt.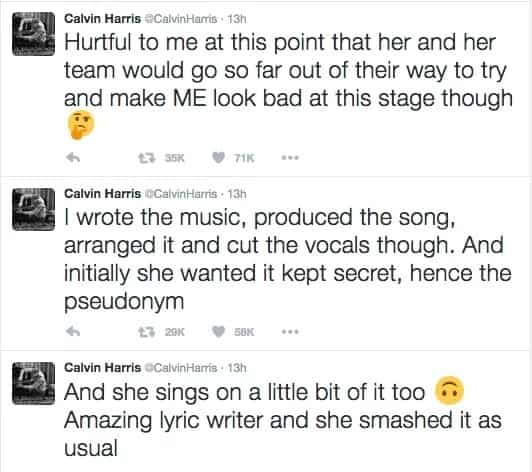 "I wrote the music, produced the song, arranged it and cut the vocals. Initially she wanted it kept secret, hence the pseudonym," the Scottish DJ wrote on Twitter.
He also expressed his disappointment by saying that, "[This is] hurtful to me at this point that her and her team would go so far out of their way to try and make ME look bad at this stage though."
Harris did not mince words and slammed Swift for trying to "bury" him just like what she did to fellow musician Katy Perry who became John Mayer's girlfriend after her. He reminded Swift to simply direct her energy to the positive aspects of her life instead.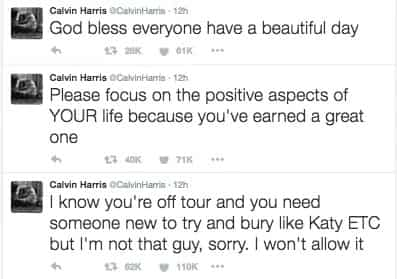 Source: Kami.com.ph