- Cristalle Belo, the daughter of celebrity doctor Vicki Belo, introduced her Australian fiancé Justin Pitt on the morning show 'Magandang Buhay'
- Cristalle and Justin have been engaged since August of last year
- The couple plans to have a September wedding at Lake Como in Italy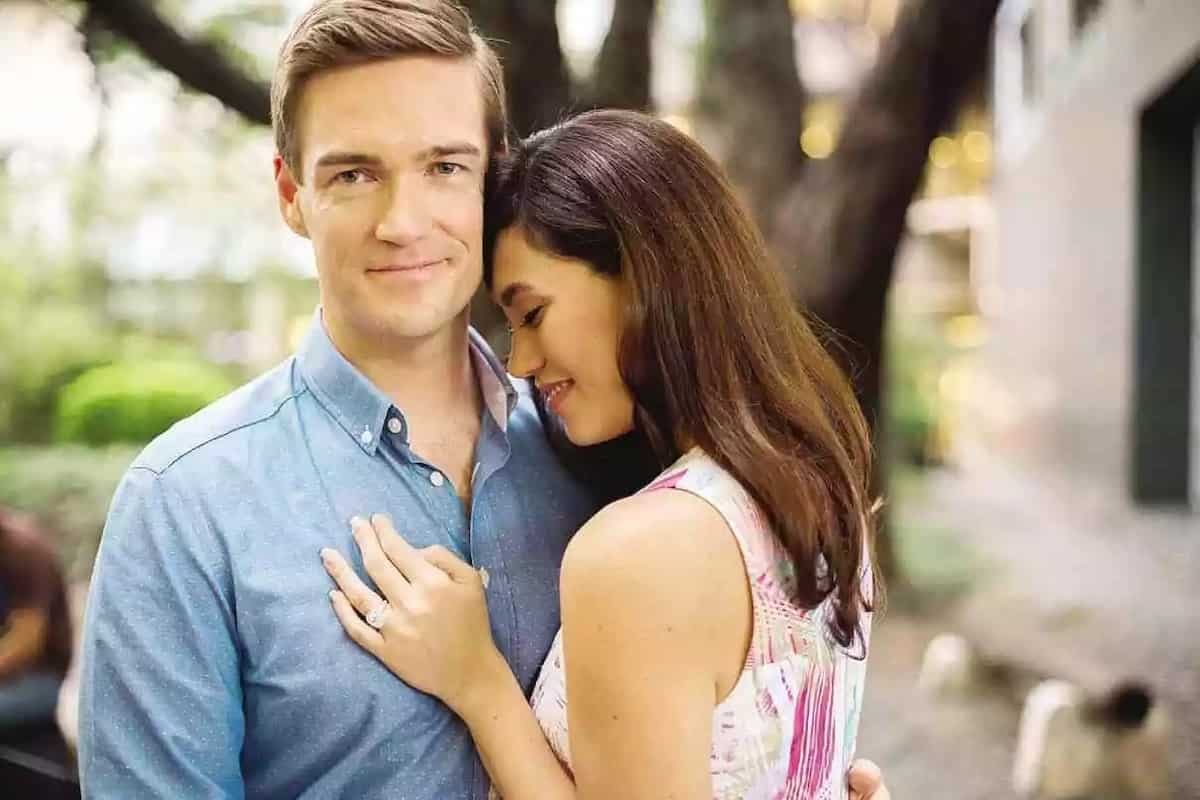 Cristalle Belo, the heir apparent of the Belo beauty empire, was one of the celebrity guests on 'Magandang Buhay' morning show hosted by Karla Estrada, Jolina Magdangal, and Melai Cantiveros. She was joined by her fiancé Justin Pitt.
The future Mrs. Pitt shared that she met Justin while on a trip in Abu Dhabi.  Two of their friends set them up and they were happy to discover that they have many things in common such as horseback riding and going on adventures.
On his Instagram page, Justin shared how he proposed to Cristalle while they were on vacation in Maldives.
READ ALSO: Search showbiz Sofia Andres to bff Elisse: 'I'm protective'
"In the light of the August full moon, my love and my light agreed to be my partner for life," he wrote.
Pitt also added a quote from C. S. Lewis: "Now at last they were beginning chapter one of the greatest story which no one on earth has read: which goes on forever, in which every chapter is better than the one before."
The couple's Italian wedding is fast approaching and when asked about their wedding preparations, Justin said "The wedding preparations are going along quite well. It has been a challenge at some point because we are getting married in Italy and we are not there all the time to talk to the suppliers and all those type of things."
READ ALSO: Bangs Garcia and British fiancé to tie the knot in Boracay and London
He added that he and Cristalle are pleased with how everything is going. "It is two months away and everything is coming together quite nicely. It's going to be in Lake Como in Italy, which is a beautiful place. We are both looking forward to it," he said.  
The 37-year-old hotelier also expressed his deep love and admiration for Cristalle. When asked by the hosts, "What do you love most about Cristalle?" He responded with, "She is positive. She wants to help people. She has a great outlook on life. I'm happy to have that in my life all the time."
Justin describes Cristalle as his source of joy and happiness.
READ ALSO: PBB season 7 to be held in Vietnam; housemates faced first challenged
"Cristalle is my source of joy and happiness and everyone in the Philippines knows that she has a warm and caring soul and it's very true. I am really blessed to have her in my life because whenever we are together I feel happy and I feel that joy. I just want to make her happy which I want to do for the rest of my life," he gushed.
When it was Cristalle's turn, she revealed what she has learned so far from carrying on a long distance relationship with a foreigner.
"At 30-plus years old, I realized that having an online relationship forces you to talk and talk and talk and, for me, commitment," she said. "You really have to be very, very committed -- committed to communicate, committed to be devoted to this guy. I'm so happy that I have found someone who is even more committed than I am." -Kami Media
RELATED: Top 10 sex scandals involving politicians
Source: Kami.com.ph