- In what can only be tagged as a Walking Dead fashion, more than 30 people were found passed out on a New York street
- The intersection, the 'ground zero' for K2 addicts in the city, 33 people reportedly reacted to K2, a synthetic type of marijuana, near Broadway and Myrtle Avenue, in New York City
- Authorities said that all of the hospitalized patients were expected to survive
Typical mornings in New York City are filled with people rushing to catch the subway or get their caffeine fix.
However, on Tuesday, residents of Broadway and Myrtle Avenue were shocked to find people passing out, vomiting, urinating and twitching in the middle of the street early morning.
Lindsay Foehrenbach, a resident of the Brooklyn neighborhood for the last 11 years, described the horrible scene to Daily Mail Online.
READ ALSO: Will you be a drug addict too if your family member is? Find out the answer
"People just kept showing up and then quickly dropping to the ground, flopping over hoods of cars, or crumpling onto the sidewalk. They all seemed oblivious to their surroundings and just couldn't stay on their feet. I saw four ambulances show up and more entering the intersection as I was leaving," she said.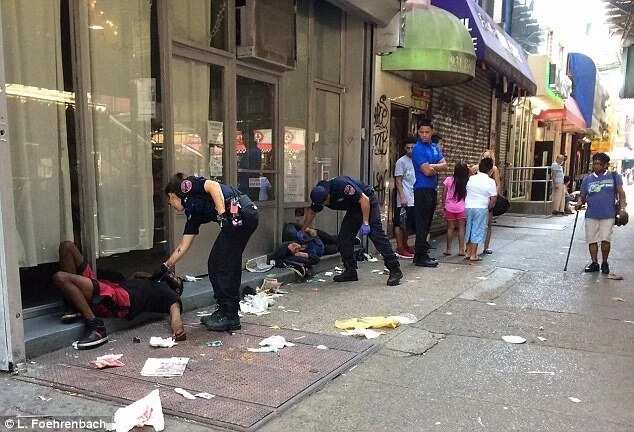 Foehrenbach said one man was spread eagle and lying face down on the ground. Another man laid down in the street between two parked cars. His shoes were off and he was unresponsive.
Resident Brian Arthur filmed the appalling scene and posted the video on his Facebook page which showed people unable to stand up straight and were being held by officers as they waited for the ambulance stretcher.
READ ALSO: Sex Kills! 4 Ways Sex Can Kill You
"This is no joke over here right now, this is tragic. 'This is crazy. Tell your kids, tell your family, stay off of that man," he narrates to the camera as he filmed one passed-out New Yorker to the next.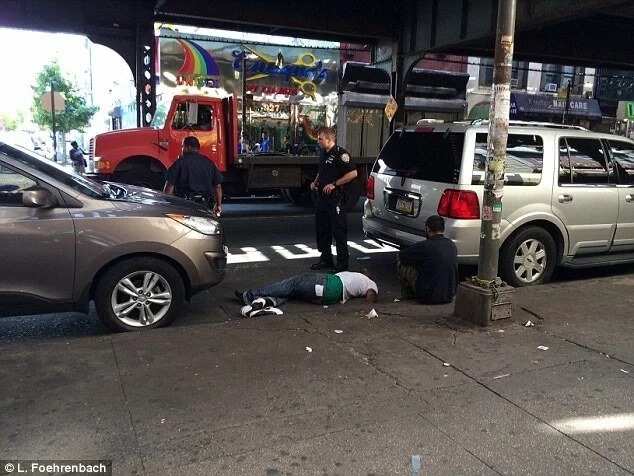 Arthur also reported that the passed out crowd was comprised of mostly young, teenage boys.
The New York Police Department (NYPD) first received a report that several people with an 'altered mental status' are outside a Brooklyn community garden on Stockton Street. Upon investigation, the police officers found 17 intoxicated individuals roaming around the area.
READ ALSO: LOOK: What went on a wild summer night at Magaluf
K2 contains man-made chemicals that act on the same cell receptors in the brain that THC does in natural marijuana. However, researchers say that the chemicals that compose K2 bind the cell receptors more strongly which in turn leads to stronger reactions. Its effects include extreme anxiety, confusion, paranoia, and hallucinations.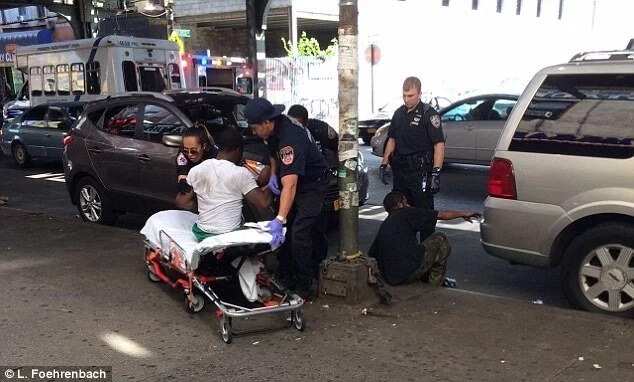 It is easily accessible as a stick or a package is often sold for one to five dollars only.
Since 2015, more than 6,000 people have been sent to the emergency room in New York with two confirmed deaths due to of K2 usage.
READ ALSO: PHOTOS: Snatcher's body found in EDSA
Due to the rampant production of K2 in the city, New York Mayor, Bill de Blasio signed a bill last October that made it illegal to sell or produce K2. Those who get convicted are punished by up to a year in jail and fines of more than USD 100,000.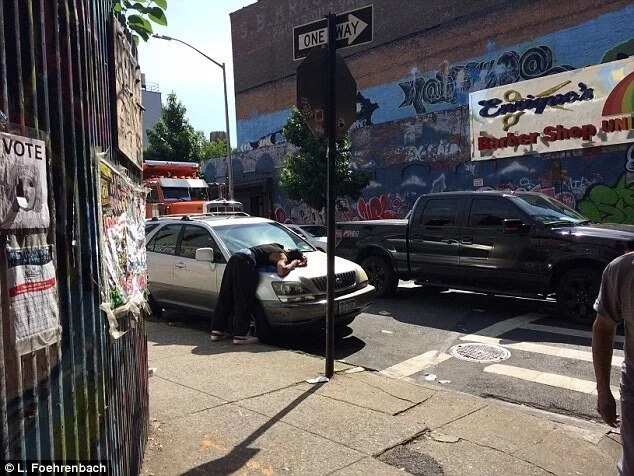 Despite this, Stockton Street in Brooklyn remains a constant problem for residents as K2 addicts are often seen in their local community garden.
Foehrenbach observed that the K2 problem started two years ago but it had really escalated in recent months.
READ ALSO: Revealed: PNP Chief Dela Rosa's soft spot
"Today was unprecedented," she said.
In a statement, the NYPD said that there has been a regular and 'targeted enforcement' in the area that has resulted in 'multiple arrests and seizures of K2'.
Residents point to a local store called Big Boy Deli as the source of K2 problem in the area being the "sole distributor".
READ ALSO: Top 5 things Duterte proved in his first week as president
The alarming morning scene was responded to quickly by emergency workers and residents of nearby homeless shelter and treatment clinics were warned that a bad batch of K2 was going around.
The New York Health Department said it is investigating and monitoring emergency rooms across the city. - Kami Media
RELATED: History Lesson: Bloody drug war failed in the long run
Source: Kami.com.ph