- The CMFP and President Rodrigo Duterte believe that a federal form of government would help the nation solve its problems and provide the needs of its people in a more effective and efficient manner
- As President Rodrigo Duterte continues to champion the need for federalism, a couple of lawmakers and supporters have already proposed how to divide the country into federal states
- The most popular proposals belong to Aquilino "Nene" Pimentel Jr. and the Citizens' Movement for a Federal Philippines (CMFP) – with both parties proposing to divide the country into 11 federal states
- According to Pimentel, a presidential form of government should be maintained but the number of senators should be increased from 24 to 81
With President Rodrigo "Rody" Duterte leading the call for a change to federalism, lawmakers and supporters are already proposing to divide the Philippines into 11 federal states.
Former Senate President Aquilino "Nene" Pimentel Jr. is proposing to have 11 federal states, keep a presidential form of government, and increase the number of senators to 81.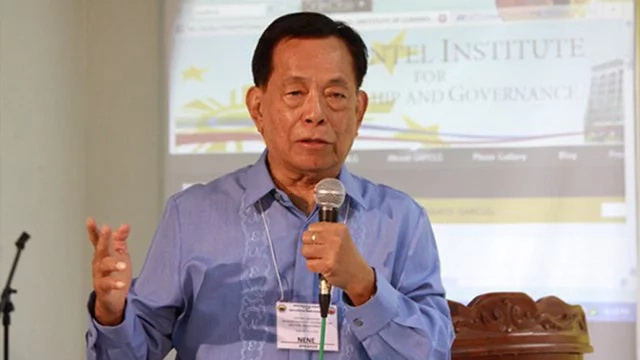 Pimentel's breakdown of the 11 states is as follows:
Luzon would be composed of four states – Northern Luzon, Central Luzon, Bicol, and Southern Tagalog; Visayas would have four states – Central Visayas, Eastern Visayas, Western Visayas, and Minparom (Palawan, Romblon, Marinduque, Kalayaan Islands, Mindoro Oriental, Mindoro Occidental); and Mindanao would be composed of three states – Bangsamoro, Northern Mindanao, Southern Mindanao).
READ ALSO: Is the MNLF not pleased with Duterte's stance on BBL? Find out why
Based on Pimentel's proposal, Metro Manila would remain as the capital of the Philippines.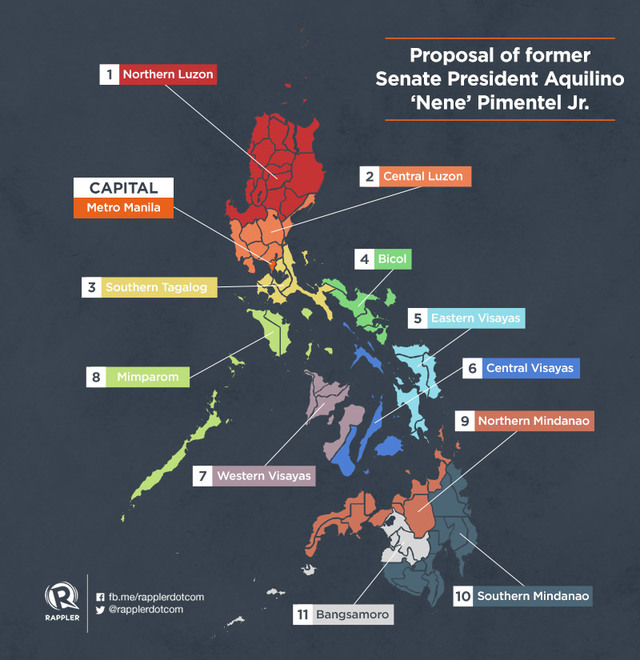 The Citizens' Movement for a Federal Philippines (CMFP) has also proposed that the country be divided into 11 federal states. These include Northern Luzon, Southern Luzon, Central Luzon, Metro Manila, Bicol, Cordillera, Western Visayas-Palawan, Central and Eastern Visayas, Zamboanga Peninsula and Northern Mindanao, Davao Region and Central Mindanao, and Bangsamoro.
However, the CMFP wants the capital of the Philippines to be moved from Manila to the Clark Special Economic Zone in Pampanga.
READ ALSO: LOOK! Local businessmen doubts Du30's federalism
CMFP Advisory Board chairman Jose Abueva said that a federal parliamentary democracy is better suited to the needs of the country.
"With greatly improved governance in a federal parliamentary democracy, gradually we shall be better able to develop greater human and institutional capabilities for good governance: (1) to solve our problems, meet our challenges and achieve our goals as a nation; (2) to effect needed change and reforms faster, and (3) to sustain our development and modernization," Abueva said.
Under a federal form of government, the sovereignty of the country will be shared between a national government and the various federal states or regions.
READ ALSO: WATCH and discover federalism in the eyes of a former chief justice
The states shall be responsible for their own laws, education, healthcare, transportation, recreation, culture, security, safety and economy. The national government shall focus on nationwide issues and concerns such as foreign policies and national security.
RELATED: Congress speeds shift to federalism
Source: Kami.com.ph