On Tuesday, the United Nations tribunal finds that China has no legal claims of the West Philippine Sea (South China Sea). It said that the country also has no historic title with regard to the waters of the West Philippine Sea. As a result, it's occupation is a violation of the Philippines' sovereign rights.
China, on the other hand, promised that they would – as they did with the hearings held at the Permanent Court of Arbitration in The Hague -- ignore the ruling. It further said that its armed forces would do everything within its powers to defend its sovereignty and maritime interests.
Meanwhile, immediately after the ruling was out, the people let out their opinion and points of view regarding the matter – both positive and negative. The #CHexit (China Exit) also began to trend on Twitter with people from different walks of life using the hashtag alongside with their statements.
Some of these people include politicians and ordinary people alike.
Here are some of the tweets.
READ ALSO: Philippines declared winner vs China
First and foremost, a lot of people say that we should give credit where credit is due – to the PNoy administration. It was during former President Benigno Aquino's term that first defied China.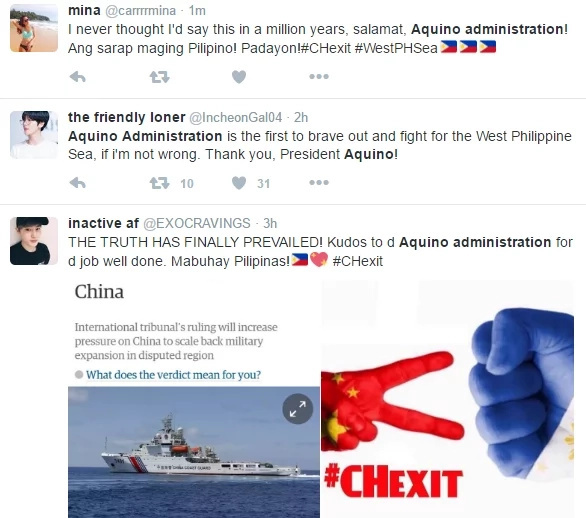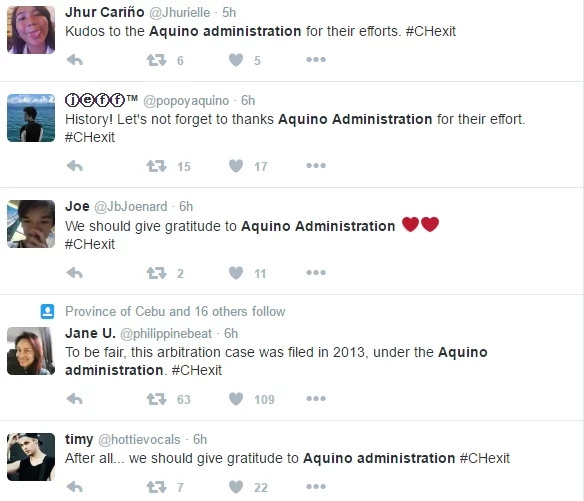 Bam Aquino congratulated all those who worked hard for the case on the West Philippine Sea, saying that it would result to the Philippines having a favorable outcome in terms of future multilateral or bilateral talks.
Reporter Ces Oreña-Drilon congratulates Justice Antonio Carpio as well as the members of the Tribunal. However, she also then tweeted that after the ruling comes the hard part: enforcing it.
A certain Gem Roy Fuentes, also posted a photo of what seems to be a reference of one of the Filipino games (paper vs rock vs scissors) with China losing to the Philippines.
Blogger and Manila Bulletin columnist Tonyo Cruz, also invited the public to tell China to exit now! He also said that it feels so good blocking China troll, referring to them as bullies and losers.
Of course, tweets and #hugots about #CHexit and love also made it to Twitter.
READ ALSO: A primer on PH vs China arbitration
Meanwhile, others were wondering what would the country do if China would not leave. It has been reported that they will not respect and honor the Tribunal decision. Jinno Rufino, BasketballTV Presenter, has said that if he were to be honest, it is more likely that the Philippines cannot do anything about it.
Others also say that we should all share the West Philippine Sea instead of fighting over it. For Jajeu Dolan, we should call this place Philippines. LOL.
Others also posted on the possible impacts on the Tribunal ruling. Take this one from AJ Wang, for example.
By the way, the hashtag #CHexit was first used by Wilma Balza Brosas, at least that's what Trish Castro, a secondary school teacher, said.
READ ALSO: FULL TEXT: PCA Press Release on West Philippine Sea ruling
Source: Kami.com.ph