-Bela Padilla and Yassi Pressman are working on the movie "Camp Sawi" under Viva Entertainment
-Yassi Pressman told no one that she would be joining "Pinoy Big Brother" leaving Bela Padilla completely surprised when she found out Pressman is joining "PBB"
-Despite not having told Padilla about joining "PBB," Padilla is still happy for Pressman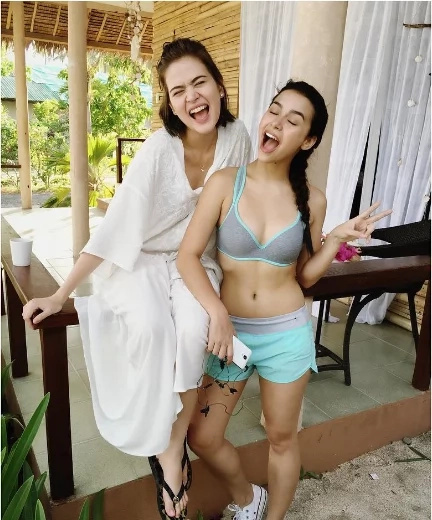 Viva Entertainment's "Camp Sawi" actress, Bela Padilla, asked Big Brother to let Yassi Pressman out of the "PBB" house so that the latter can join them in the premiere night of the movie. Padilla had no idea that Pressman had already joined "Pinoy Big Brother." She only knew it when she saw her co-star right there inside the famous "Bahay Ni Kuya."
Padilla was very much surprised when she found out that Pressman was with "PBB." According to the 25-year-old actress, they didn't have a clue. She never thought of the possibility that Pressman would be out of reach at the "PBB" House since they still need to shoot a scene for "Camp Sawi."
Padilla and Pressman completed one last scene together for "Camp Sawi" on Sunday; with the actress inviting Pressman to eat with her Monday. However, Pressman replied, "May retreat ako." (I have a retreat.) The next thing Padilla knew, Pressman was already on "PBB."
READ ALSO: Destiny? Watch Nadine Lustre's audition video in the same PBB season James Reid won
Padilla said that there's still one more scheduled shoot on Thursday, July 14, for one scene; however, the scene will be okay even without Pressman.
"Natapos naman na niya lahat ng kailangan niyang tapusin, isang eksena lang (She finished all that she needed to finish, just one scene)," said Padilla.
Despite the fact that Pressman didn't say a word about abruptly joining PBB and cutting short her involvement with "Camp Sawi," Padilla is very happy for her. She even went on describing the young actress as very hardworking and genuine.
READ ALSO: Sarah G learns how to cook while on two-month break
"Kung ano man ang nangyayari sa career niya, (Whatever it is that is happening with her career), I'm very happy," reiterated Padilla.
Pressman had previously mentioned that when she received the call from "PBB," she had no qualms whatsoever about joining. According to Pressman, when you're being called to join "PBB," you just don't say no to it. She said that the mere fact of being considered for "PBB" was already an honor. –SD, Kami Media