- Since June 24, the anti-illegal drug campaign Oplan KAPAK (Katok at Pakiusap) has been tasked to crack down upon illegal drug activities
- A sting operation in Quezon City led to the killing of 4 drug pushers
- More than ₱3 million worth of drugs have been confiscated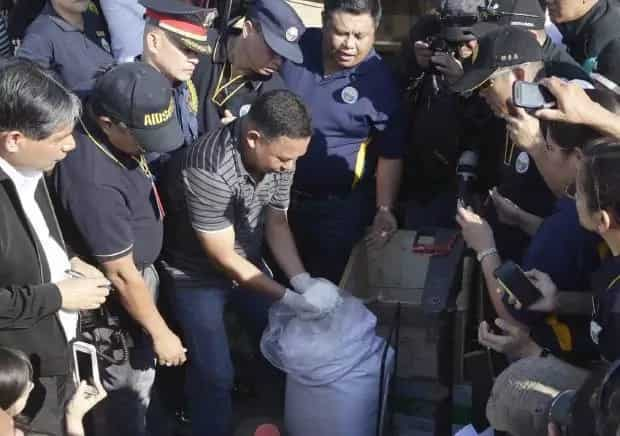 In a sting operation on C.P Garcia Street in Quezon City early Monday, the police shot four men dead and seized more than ₱3 million worth of illegal drugs.
The four men who were killed in the bust operation were Ignacio Dela Cruz, Earl Javier Oronio, and two others only identified as 'John' and 'Jake.' These men are suspected to be members of the notorious Briones Drug Group, a gang known for car napping in Metro Manila and the surrounding provinces.
According to the District Anti-Illegal Drugs (DAID) Chief Enrico Figueroa, who served as an undercover police met with Dela Cruz and Oronio in a Toyota Innova to conduct a transaction. 'John' and 'Jake' were on a motorcycle.
READ ALSO: To the rescue: SolGen to protect police in war on drugs
After the DAID operatives paid about ₱100,000 worth for the drugs, the police officers identified themselves to arrest the pair. Suddenly, the two allegedly pulled out their guns and shot at the officers. 'John' and 'Jake' also opened fire at the police officers.
Subsequently, the police shot down Dela Cruz and Oronio while other officers chased 'John' and 'Jake' along Maharlika Street in UP Village. Eventually, the pair were also gunned down.
Chief Figueroa narrated that one DAID officer PO3 Jobert Garcia was shot but his bullet proof vest saved him. Under one of the suspects' car, the police found ₱3 million worth of shabu.
READ ALSO: Dela Rosa seizes 'floating shabu laboratory' in Subic Bay; four Chinese arrested
The sting operation has led to the neutralization of the Briones Group, as four of its members are killed and four others are in jail. Only one member is at large.
Since June 24, the anti-illegal drug campaign Oplan KAPAK (Katok at Paiusap) has been successful, with 2,268 men surrendering to the police. –NB, Kami Media
RELATED: LOOK! Panelo slams potential senate probe on police
Source: Kami.com.ph