Pinoy fisherman defends West PH Sea from China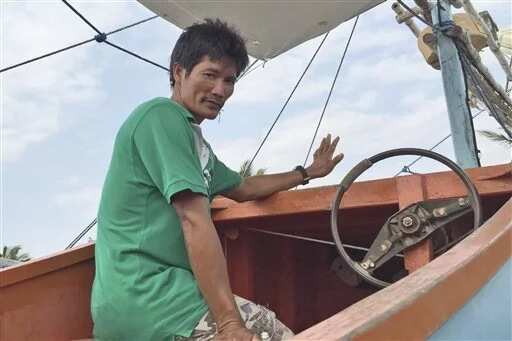 A lone Filipino fisherman is standing up to China in the middle of the West Philippine Sea.
Renato Etac, 37, has taken it upon himself to guard the country's sovereignty of Bajo de Masinloc or Scarborough Shoal, which is also being claimed by China.
On countless occasions, Etac has dealt with Chinese coastguards threatening him to leave the disputed seas, even pointing rifles at him.
Speaking to the Associated Press, Etac recounts: "They'll say, 'Out, out of Scarborough!"
To which he would yell back: "Where is the document that shows Scarborough is Chinese property?"
Facing rifles, notwithstanding, Etac believes the Chinese would not fire and risk a war.
The fisherman has also found himself in a stone-throwing fight aboard their respective boats, or in a battle of sailing supremacy as the Chinese sometimes try to hit his boat.
Etac had been fishing in Bajo de Masinloc since he was a teenager. His bravery in the face of foreign power comes from his need to defend his livelihood.
"It's like quarreling, like playing games. Yelling, dirty finger, everything's there. Sometimes I use expletives in different dialects and I get to laugh when I see them, because they don't understand what I'm saying," said the fisherman.
Since the Chinese claimed Scarborough Shoal in 2012, Etac's earnings have been cut to half of what he used to make. He now only earns P3,000 after a week's fishing expedition in the open waters.
READ ALSO: Obama exchanges 'candid' talks with Xi over South China Sea
While world powers try to settle the territorial disputes through international arbitration or military intimidation, on the micro level, the game between coast guards and fishermen is like a cat-and-mouse chase.
Several Southeast Asian fishermen has had encounters with opposing countries' coast guards.
Vietnam's coast guard seized a Chinese ship carrying 100,000 liters of diesel and had to chase away more than 100 Chinese boats in the last two weeks.
READ ALSO: Indonesia to China: hand over fishing boat
One of Indonesia's fishing boats had been captured by China on allegations that it is operating illegally near the South China Sea last week.
This is after Indonesia had tried to seize a Chinese fishing boat and arrested eight fishermen last month. The Chinese coast guard rammed the fishing boat while it was being towed, allowing its escape.
Source: KAMI.com.gh