Mar Roxas has surprised most of us when he starting blogging and sharing his travels and adventures around the Philippines. It seems like he has finally moved on from the recently concluded elections and all the pain and stress that accompanied it.
According to one of his blog posts, his tour around the Philippines was planned due to two reasons: First, he wanted to personally thank his supporters for – well – supporting him, and second, he wanted to try his luck in blogging.
Mar Roxas the travel blogger. It actually has a good ring to it.
Anyway, supporters and non-supporters alike have been following his posts not only because they wanted to know what the former DILG Secretary is upto lately but also because some – well, most, actually – of his blog posts are cute, witty, and just shows a different side to the Mar Roxas the public has come to know.
To give you a glimpse of these "cute, witty" moments, here are five examples of Mar Roxas' attempt to being 'bagets' and full of humor – and maybe a bit of his 'tito' moments.
READ ALSO: PHOTOS: Mar Roxas attends Korina's Ateneo graduation
Mentally wearing his gear
In his 'Life in Malaspascua' post, Mar Roxas said that he has this habit of mentally wearing his diving gear to make sure that he has everything packed.
In that instance, his niece came up to him and pointed out that what he was doing was so "tito".
We couldn't agree more!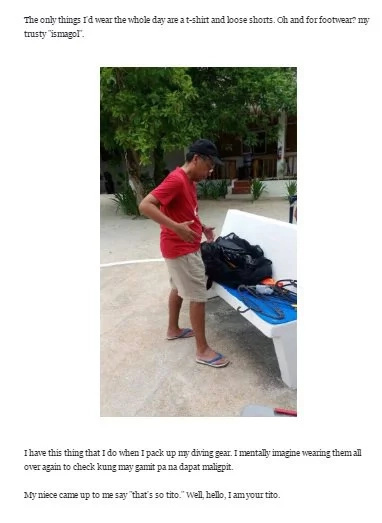 Trying his luck with 'Spotify'
On July 6, Mar Roxas posted a note titled 'From Dumaguete to the Detour'. He was on his way to Cebu from his diving trip in Dumaguete.
He tried his best to be "in" by tuning-in himself a Spotify account.
"When I say 'tuned in', kinakalikot ko pa," he said.
#neversaynever

He also added that he was still undecided wheter to get a free account or go for the premium one.
"It's like my cable service, I'm still on basic and everyone else is on HD," he said.
Awwwww! Why are you so adorable? He was all cute and funny until he said this: "As we jokingly say in Bisaya, 'stip by stip'." You don't want the Bisaya people to read this, Mr. Mar, or you're in trouble. *wink*
READ ALSO: Roxas shifts career path to travel blogging
Getting an advanced diving certificate
Another #lifegoals achieved. Mar Roxas posted on a Sunday that he finally had his advanced diving certificate. Most of the teenagers would want to have this certificate. They'll definitely brag about it, too! This only goes to show that a person's age cannot stop someone from achieving his #lifegoals.
And because Mar Roxas is witty, he included this in his caption: "And since it's a Sunday, fish be with you." Whatever, Mr. Roxas.
Singing with Noel Cabangon
Was he fan-boying at this moment? We thought so, too! In this photo, we can see Mar Roxas looking really serious while singing the songs of Noel Cabangon with former President Benigno Aquino III and Noel Cabangon himself.
#bestfriendsforever
Experimenting with his GoPro
This one could be perhaps the cutest of them all – as of present time! In this video, Mar Roxas talks about how he is trying to pair his Go Pro with his mobile. He said his battery is about to run out but still unsuccessful with his pairing.
#LifeGoesOn, Tito Mar! Push mo lang yan.
Life lessons and NBA
On his 'Day 8: Tadhana' post, Mar Roxas tried to be deep and serious about life – and still be full of humor.
He talked about many things, including the NBA Finals where the Cavs won against the Warriors. And because he is the Tito of us all, he has this to say: "My take here is if you have something, it's important that you value it. Because you can lose it just like that."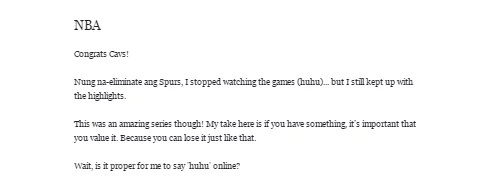 Remember that, my friends. Never take anything for granted. (Insert a Mar Roxas line: "Wait, is it proper for me to say 'huhu' online?) Hay naku.
#PambansangTito
READ ALSO: Roxas, Robredo attend Cebu mayor oath-taking, thank supporters
Source: Kami.com.ph