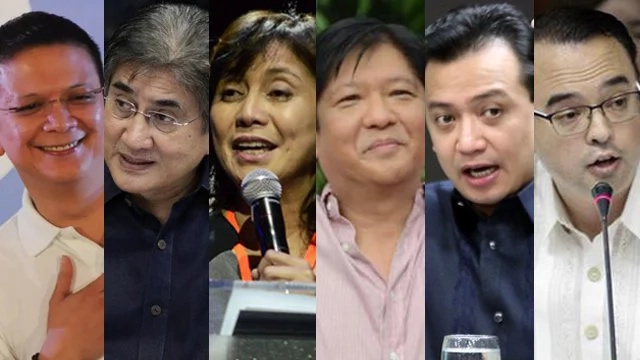 Six VP candidates ready for sunday's debate
Vice presidential candidates, Leni Robredo, Bongbong Marcos, Chiz Escudero, Alan Peter Cayetano, Gringo Honasan, and Antonio Trillianes IV are all getting ready for this Sunday's debate. In the first, and only, COMELEC sanctioned debate for this election season, the candidates will square off no holds barred in a debate to discuss issues and forward their platforms.
The Commission on Elections (Comelec) partners with CNN Philippines and Kapisanan ng Broadkaster ng Pilipinas, along with Business Mirror will host this Sunday's debate. It will be held in the University of Santo Tomas Quadricentennial Pavillion. It will broadcast live on free television, channel 9 from 5:00 PM to 7:30 PM.
The topics to be discussed vary in scope. These include corruption, poverty, political dynasties, basic human rights, law and order, public transporation,internet and mobile connectivity, foreign policy and their own advocacy to not become a spare tire for the president.
Marcos ready for mudslinging
Senator Bongbong Marcos promised that he would not engage in mudslinging and will only focus on discussing his platforms and the issues. "We are preparing for all possibilities, intellectual discussions as well as antagonistic exchanges. I think we will have more of the latter," said Marcos.
The son of the dictator Ferdinand Marcos expects that the politicking will mostly be targeted to him. As the election season nears, anti-Marcos groups are becoming louder and the notion of another Marcos nearing the Palace does not sit well with some people and some of his rivals.
He hopes that after the elections, everyone will just unite and take on the issues befacing the country head-on
Leni ready to pounce
As for Camarines Sur representative and Liberal Party (LP) candidate Leni Robredo, she says that she is ready to debate any issue. She says she will not back down. She hopes that the debate will focus more on the issues than be an avenue for mudslinging.
The main thrust of her issues would be addressing questions on poverty, corruption, and political dynasties. Issues that she has personally faced both in her time as a lawyer and as a representative.
Source: Kami.com.ph