- Bullfighter Victor Barrio was the first to die in the bullring after a century in Spain
- He was caught off guard and the 87-stone beast punctured his lung and aorta which caused his death
-His widowed wife received support and comforting messages through social media platforms and was thankful despite being devastated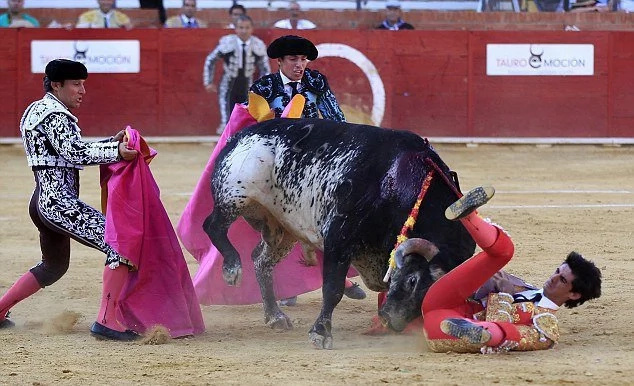 It seems that despite knowing how life threatening a situation could be, one can never be truly and fully prepared for the events to take a tragic turn.
The day was supposedly meant to be fun as the town celebrates its annual festival called Feria del Angel. However, for married couple Matador Victor Barrio and Raquel Sanz, the bullfight that occurred amidst the festivities has robbed a life.
Barrio was a fully-qualified bullfighter since 2012, which is why when the 87-stone beast called Lorenzo caught him off guard after a gust of wind affected his performance, viewers were left stunned and devastated for the scenes that soon followed. The matador attempted to fix the situation through his 'muletazo' maneuver, but it was too late. Lorenzo managed to pierce through his chest, severely damaging his lung and aorta.
READ ALSO: Migrants flee war-torn countries, only to be tortured
Aware of the urgency of the matter, he was taken to the hospital straight away – undergoing resuscitation, intubated, and even received an emergency tracheotomy to aid his breathing but all to no avail. Barrio was the first to die in a bullring after a century in Spain.
His widowed wife received an outpour of support and comfort through various social media platforms, as she was present in the audience during the show. Sanz was distraught as she branded life to be 'unfair,' sharing that she possesses no strength but was grateful for those who took time to send her a message.
What added more the heartbreaking incident was that Sanz was openly advertising the show even before the festival began. She was encouraging readers a trip to Teruel, where the bullfight occurred. She boasts of how their own fiesta competes with San Fermin's Running of the Bulls in Pamplona, noting that her husband would take part in the show as well.
READ: LOOK: Puppy takes care of abandoned piglet; their friendship will melt your heart!
Sanz married her husband only three years back, and was forced to say her farewell so soon. She expressed her sorrow through an emotional message on Twitter, hoping that despite his early departure, he was guaranteed a privileged view no matter where he was. –HB, Kami Media
READ ALSO: They set hidden cameras in a zoo. What they caught the man doing to orangutan female is a shock
Source: Kami.com.ph