- France's national basketball team secured a spot for the 2016 Rio Olympics after overcoming Canada in the Olympic Qualifying Tournament (OQT)
- Prior to Canada, the other Manila contenders against France for the Olympic spot were New Zealand, Philippines and Turkey
- The 2016 Summer Olympic Games will be set in Rio de Janeiro, Brazil this August 5 to 21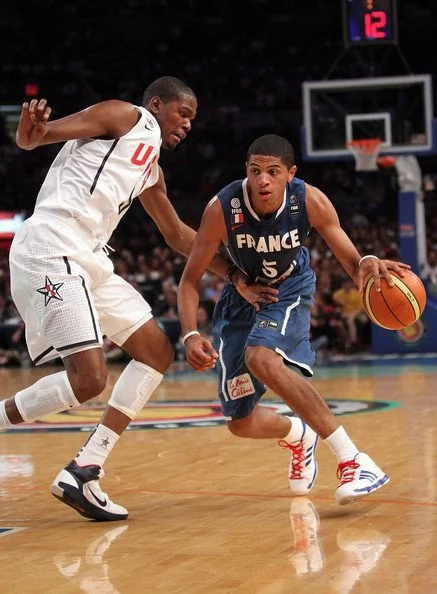 France's national basketball team is headed for the 2016 Rio Olympics after overcoming Canada in the Olympic Qualifying Tournament (OQT) held on Sunday, July 10, at the MOA Arena in Manila. The French team, led by former NBA Star Tony Parker, emerged as the champions of the International Basketball Federation (FIBA) tourney with an undefeated 4-0 streak to qualify for this year's Olympics. Yesterday's final game against Canada ended in France's favor, 83-74.
Prior to Canada, the other Manila contenders against France for the Olympic spot were New Zealand, Philippines and Turkey. Other OQTs were held in Belgrade, Serbia and Turin, Italy. According to FIBA, Croatia, France and Serbia secured the final three spots to the Olympic Basketball Tournament. The 2016 Summer Olympic Games will be set in Rio de Janeiro, Brazil this August 5 to 21.
The countries that will join the Men's Olympic Basketball Tournament are: France, USA, Venezuela, Serbia, China, Australia, Argentina, Spain, Brazil, Lithuania, Croatia and Nigeria. The countries' teams were grouped into two (Groups A & B) via a random draw, with six teams per group. The teams within each group will be playing against each other in a round-robin format (every team will face the other five teams in the group).
READ: No need for Asian imports for SMB – AZ Reid
According to FIBA, the top four classified teams from Group A & B will then move on to the Final Phase. The last phase will be played in a standard knock-out system consisting of Quarter-Finals, Semi-Finals, a Bronze Medal Game and, finally, the Gold Medal Game.
And who are the strong Olympic contenders? Here's a list: 2000 Sydney Olympics (USA - Gold; France - Silver), 2004 Athens Olympics (Argentina - Gold; Italy - Silver), 2008 Beijing Olympics (USA - Gold; Spain - Silver), and in the 2012 London Olympics (USA - Gold; Spain - Silver). Will the national basketball teams of USA and Spain battle it out again this year? Or will we be watching out for the other teams? -KJ, Kami Media
RELATED: Find out what New Zealand player had to say about the 'haka' booing
Source: Kami.com.ph