- Asia and China will participate at the 11th Asia-Europe Meeting (ASEM) to be held on July 15 to 16 in Mongolia
- Chinese Assistant Foreign Minister Kong Xuanyou stated that the South China Sea arbitration is not up for discussion during the said event
- Filipinos in China received text messages from the Chinese embassy warning them not to discuss politics in public and in social media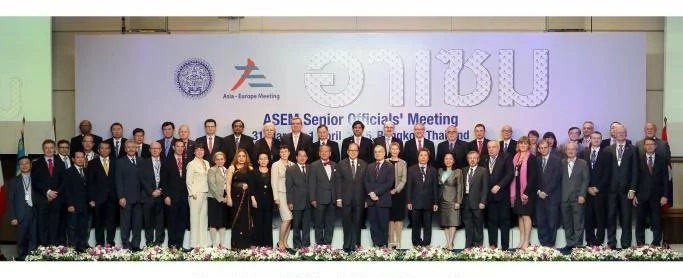 Chinese Assistant Foreign Minister Kong Xuanyou indicated that any talks regarding the South China Sea arbitration should not be brought up during a major a summit involving Asian and European leaders.
In a news briefing, Kong said, "The ASEM leaders summit is not a suitable place to discuss the South China Sea. There are no plans to discuss it there on the agenda for the meeting. And it should not be put on the agenda."
The ASEM will be the first multilateral diplomatic gathering scheduled after the Permanent Court of Arbitration's decision on July 12.
READ ALSO: The risks of DU30's soft stance on China and West Philippine Sea dispute
The ASEM is "an informal process of dialogue and cooperation, based on equal partnership" and "mutual understanding". The summit is composed of 28 European Union member states, 2 other European countries, with 21 Asian countries, and the ASEAN Secretariat. The ASEM addresses political, economic, as well as social, cultural, and educational issues, with the objective of strengthening the relationship between the two regions.
Weeks before the tribunal is set to release its decision, Chinese officials and experts have been vocal about their disapproval over the proceedings. They maintain that the foreign tribunal has no jurisdiction to handle such territorial dispute claiming that the Philippines should have honoured its bilateral agreement with China to settle the conflict. Moreover, China repeatedly refused to participate in the proceedings and was quoted stating that it will not be forced to accept any resolution forwarded by the Hague.
Earlier, China has sharply criticized the United States for conducting freedom of navigation patrols near islands where China maintains military presence. It claims that such acts interfere with the ongoing dispute.
READ ALSO: LOOK: China's discomfort about ruling intensifies; threatens PH anew
"There is no reason to get the South China Sea issue into this ASEM meeting citing freedom of navigation and security interests as causes of concern. It's got no leg to stand on," Kong said.
In an effort to prove that its acts are not a cause of concern, China states that the building and reclamation work it has been conducting in the region is to the benefit of the international community especially for civilian maritime navigation.
China Daily, an English-language broadsheet published in China, reported that China will soon start operations of a fifth lighthouse on Mischief Reef, located 250 kilometres west of Palawan.
READ ALSO: South China Sea update: Here's what US says
Despite China's position on the matter, Beijing-based diplomats involved with preparations for ASEM believe that such a hot topic will be inevitably raised. The South China Sea issue involves territorial claims that overlap in parts with Vietnam, the Philippines, Malaysia, Brunei and Taiwan. ASEM is expected to be attended by Chinese Premier Li Keqiang, Japanese Prime Minister Shinzo Abe, and German Chancellor Angela Merkel.
Over the weekend, Filipinos based in China received text messages from the embassy advising them to carry their passports and residency permits with them at all times and to contact the embassy or Chinese police if there are any untoward incidents.
Apart from China, Taiwan is also closely monitoring the outcome of the South China Sea issue. Currently, Taiwan has military presence in Itu Aba, is the largest naturally occurring islands in the region. Some analysts believe that Itu Aba contradicts the Philippines' argument that none of the areas claimed by China is capable of generating its own exclusive economic zone.
READ ALSO: WATCH: Here's what DFA chief Yasay really meant
Taiwanese foreign minister Leo C.J. Lee said, "If the ruling touches on our sovereign rights we will respond strongly." Coast Guard chief Lee Chung-wei added that the coast guard will not "soften" is defense of the island. - IS, Kami Media
Source: Kami.com.ph