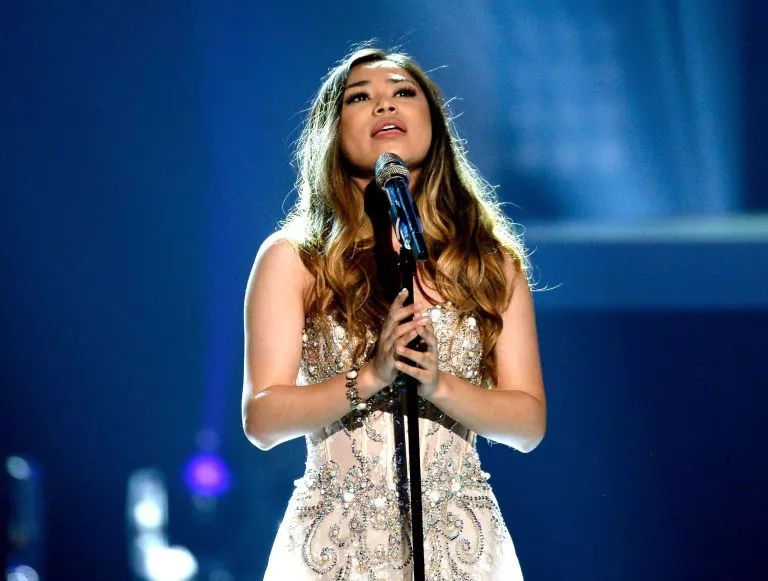 Jessica Sanchez (20) has proven once more that she is a star. A feat that she has already proven 4 years ago when she auditioned for American Idol Season 11. Sanchez belted out a moving rendition of "The Prayer" during American Idol's series finale on April 7.
The Filipina-Mexican singer was joined by prior contestants for a medley of songs, which was opened by Katherine McPhee and Casey James who sang "Need You Now" by Lady Antebellum.
Elle.com writer Alyssa Bailey reports that Sanchez stole the American Idole Finale. "The most buzzed-about moment of the American Idol series finale could have been the announcement of the final winner, Trent Harmon. It could've been the reunion of the original three judges or any of the major past winners' performances—Kelly Clarkson's medley! Carrie Underwood's duet with Keith Urban! Instead, it was season 11 runner up Jessica Sanchez's rendition of Celine Dion's 'The Prayer' ", said Bailey.
Time.com shares the same sentiment. The online magazine reported that "Twitter is obsessed with Jessica Sanchez's American Idol Finale Performance".
"Trent Harmon was voted the winner of the final season Thursday, but if you hadn't seen the episode and relied on Twitter for updates, you might believe that Sanchez had somehow been belatedly crowned. After her performance of "The Prayer," Twitter erupted with unanimously fervent praise for the 20-year-old singer", Time.com adds.
Listening to Sanchez's performance at the 4:40 mark, one can easily understand the reason behind the craze. It's when she holds that note at the 6:00 mark that the real chills come:
Sanchez joined American Idol in 2012. She was 16 years old at the time. To the perpetual chagrin of many, she lost to Phillip Phillips and finished as a runner-up to the latter.
Source: Kami.com.ph