- Many war-torn countries in Northern Africa have produced thousands of migrants searching for better lives
- While many reach Libya, the migrants are faced with a new hell of imprisonment, torture, and rape
- The EU and NATO have tried responding to the problem through programs like Operation Sophia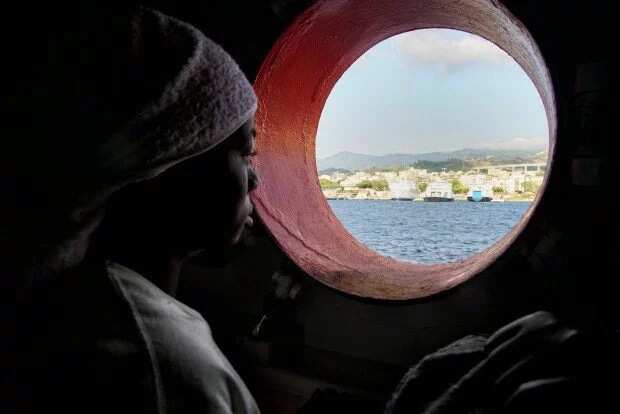 Searching for better lives, many migrants from war-torn countries flee to Libya on their way to Europe. Instead, the migrants are faced with imprisonment, torture, rape, and death. While many are rescued, the EU and NATO have a lot more to do to save the migrants.
Laye Donzo escaped to Libya hoping to get away from the hell he came from. But instead of the promised dream of an education and a job, what he got was another hell of imprisonment, then a near death at sea.
The young man from Liberia is only one among many of the Europe bound migrants hoping for better lives from the war-torn countries. Each year, thousands of Africans hope to reach Libya, seeing it as a doorway to live a life of prosperity in Europe. Unfortunately, the usual story for these people is one of torture, imprisonment, rape, or death.
READ ALSO: Another migrant ship sinks along with 500 feared dead
On June 23, Donzo and a few hundred other Italy-bound migrants were rescued off the shores of Libya by Aquarius, a ship commissioned by the charity Doctors Without Borders and SOS Mediterranee. The Aquarius rescued more than 650 exhausted migrants and provided them with white overalls and gray blankets.
Feeling safe, Donzo started opening up about the trauma and torture he endured.
With the civil war in Liberia, Donzo and his family fled to the neighboring country Sierra Leone. There, he lost many of his family to Ebola. Therefore, he travelled to Libya where he worked heavy jobs such as construction work.
READ ALSO: PH migrants and remittances may be affected by Brexit poll
While at a checkpoint, Donzo was suddenly detained by armed men earlier this year and thrown in prison. He shared that he wasn't even sure who detained him. In a chaotic Libya, there is no clear line between the militias and criminal gangs, and the security forces of rival governments.
Imprisoned for five months, he was fed only one meal every three days alongside hundreds of other Africans. He was beaten, his body full of scars from being bound and struck with rubber tubes.
"They beat you like animals," he said. "As long as you're in prison they would beat you. I don't know how many times they beat me. They beat everyone."
READ ALSO: This father's love for his sick child will make you go 'awww'!
One day, Donzo was blindfolded and taken to the coast. The men then forced him into a boat.
This horror story is only one among the hundreds of Africans on the Aquarius who were victimized by the chaos in Libya.
Besides Donzo, a man from Mali named Baba Ali said he was detained by militias in the town of Bani Walid, east of Tripoli.
READ ALSO: A brother's love: 'Dolce Amore' got fans crying over this scene!
Ali and other men were forced to work in construction and menial labor. The militias would repeatedly beat them and fire their guns in the air to intimidate them. During Ramadan, Ali escaped.
In 2011, Moammar Ghadafi lost power and Libya became a boiling pot of rebel groups, militias, and security forces from rival governments – all competing to carve their own territories in this stateless Libya. The lack of control has made Libya into a magnet for many migrants from other parts of Africa.
However, the lack of centralized control has also made African vulnerable to abuse.
READ ALSO: LOOK: Crying father with medals goes viral again; find out why
Erna Rijnierse of Doctors Without Borders confirmed that many survivors from Libya carry scars from long-term torturing.
"I see a lot of bruises on places it's impossible to bruise yourself," Rijnierse told The Associated Press.
The Human Rights Watch and Amnesty International reported hundreds of accounts from migrants who narrate stories of rampant torture, beatings, and even sexual abuse.
READ ALSO: WATCH: House spotted floating in Moscow Canal
In fact, a 26-year-old Ivorian woman shared that she was detained last June 2015 and an official facility in Tajoura, Libya, and was forced to give oral sex to a Libyan guard on a daily basis. When she tried to escape, she was sexually abused even more.
"Seven girls got away but they caught the rest of us," she said. "The guards stripped one of us, a Nigerian girl, and raped her in front of us in the courtyard."
Several responses have been made by the EU to combat these abuses. A program Operation Sophia was implemented to intercept smuggling boats and to deter migrants from coming to Europe illegally.
READ ALSO: Famous #FollowMeTo couple climb Mount Mayon
In 2015, more than 3,771 migrants died in the Mediterranean. According to the International Organization, 2016 looks much worse, documenting nearly 2,920 deaths.
Furthermore, the EU has been training Libyan coast guard and navy to also stop the smuggling. A request was also sent to NATE to get involved. The request will soon be discussed at the alliance's summit in Warsaw. NATO Secretary-General Jens Stoltenberg told NATO leaders that they were planning to launch Operation Sea Guardian, a security operation in the Mediterranean to fight counterterrorism and similar missions.
"We intend to work closely with the European Union's Operation Sophia in the central Mediterranean, building on our swift and effective cooperation with the EU to cut the lines of international human smuggling in the Aegean," Stoltenberg said.
READ ALSO: This is the reason why you wake up in the middle of the night
On June 26, the Aquarius docked at the Sicilian coast at port Messina. The survivors are given medical check-ups and processed in 'hotspot' migrations centers for their asylum applications.
As the migrants step of the the ship, many weep.
Suleiman, a man from Mali, said "I'm thinking about everything I've been through." He also thought of his parents and siblings he left behind. "My brothers and sisters, that's why I'm crying." - NB, Kami Media
READ: Pinoys Can Soon Fly Directly From Manila To New Zealand
Source: Kami.com.ph