- Manny Pacquiao in a surprise interview in Bacolod City, told reporters that he wanted to resurrect capital punishment for heinous crimes
- Church officials in Bacolod quickly criticized Pacquiao's statements saying that retribution is reserved to God
- The senator has already filed the bill last Tuesday along with 9 other bills he first signed as a Senator
The Bacolod Diocese gave their reaction to newly-elected Emmanuel "Manny" Pacquiao's support of President Rody Duterte's re-imposition of the capital punishment for grave and heinous crimes.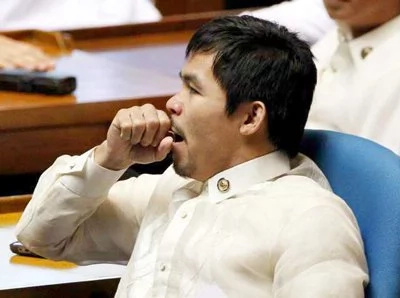 Pacquiao graced the inauguration of the elected local officials in Bacolod City and was ambushed by an interview. In the said interview, he said that he wanted to revive the death penalty for heinous crimes like drug trafficking, kidnap-for-ransom, rape, and murder.
The rector of the San Sebastian Cathedral in Bacolod and head of its Diocesan Social Communications, Father Felix Pasquin, said that killing is always forbidden under the Lord's fifth commandment, whether it is done by a criminal, the government, or any legitimate person of authority.
READ: Lito Atienza fears death penalty might not benefit OFWs convicted of crimes
The senator said that he has already filed a bill that seeks to reimpose capital punishment for grave crimes. This, according to the senator, is among the first 10 bills he had already filed on Tuesday.
The boxing champion turned public servant said that many lives have been claimed because of rape and drugs. "Constitutionally, biblically, death penalty is legal," the senator, who is now a born-again Christian, added.
Father Pasquin, however is worried of the Duterte's administration's thrust of framing the death penalty as a form of "retribution" for those victimized by these crimes.
RELATED: Manny Pacquiao says 'yes' to death penalty by hanging; here's why
He said that retribution is reserved only for God and that the sacredness of human life hangs in the balance if the bill is put into law.
"Retribution by God can either be entrance to eternal happiness in paradise, or eternal damnation in hell," pasquin added.
Manny Pacquiao has been receiving many criticisms by netizens for his "biblical" and conservative stances on social issues.
READ: 5 Biggest reasons to oppose the death penalty
Previously, in an interview, he said that homosexuals were worse than animals. These statements caught the attention of the international community and even resulted to the pull out of the boxer's endorsements.
Later on, Pacquiao apologized for his poor choice of words, but maintained he's opposition on same-sex marriage.
READ: Pope Francis to Christians: Apologize to gays
Source: Kami.com.ph