Bishops urged to stand up for moral right, resist moral wrong
- The Catholic Bishops Conference of the Philippines (CBCP) called on its bishops to defend the moral right
- Lingayen-Dagupan Archbishop Soc Villegas said every person's life and dignity should be defended
- The CBCP discussed national issues and church matters in a three-day plenary assembly starting July 8, Friday
- The CBCP had earlier raised concerns over the spike of vigilante-style justice against the illegal drug trade
"We will stand up for the moral right, and resist the moral wrong."
This is what CBCP president Archbishop Soc Villegas told his fellow prelates during the 113th Plenary Assembly on July 9, Saturday.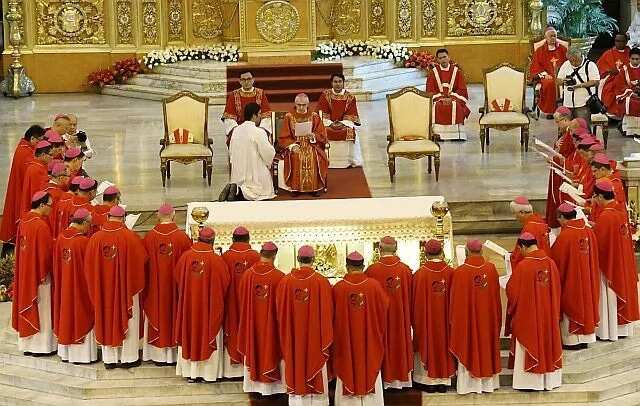 The bishops were reminded to stand up in defense of every person's life and dignity, to shield the weak from harm, and to protect the confused from error.
He encouraged them to not be deterred in fulfilling their ministry, even if only "a handful" were listening.
READ ALSO: CBCP condemns rising cases of vigilante acts
"We will guide and enlighten the lost. We will teach, even if it seems like a voice in a hostile wilderness, 'til the day we die, that right is right, and wrong is wrong, and we will not withdraw from the mission of the Lord," said Villegas in his speech.
The prelate said society is in a period of a "turning to the wilderness," wherein the Church's pastoral letters and recommendations were "unheeded, mocked, and ignored."
READ ALSO: LOOK: Standoff between Archbishop Cruz and Duterte rages anew as gambling issues arise
"We were speaking a language that our flock could not understand. When we appealed for morality, our people laughed at vulgarity. When we challenged indecency, we were despised and ridiculed as archaic," Villegas said.
He called on his fellow bishops to continue proclaiming the message of Christ tirelessly. He added that the wilderness is a test for their readiness.
A plenary assembly is the Catholic Church's highest governing body. The bishops gather to discuss the socio-political landscape as well as internal church issues.
READ ALSO: Catholic bishops will support Rody if he adheres to the law
Source: KAMI.com.gh