- De Lima is not backing down in staying vigilant on Duterte's campaign against drugs
- She has called for a congressional inquiry on the drug related killings and is joined by Sen. Trillanes and Sen. Pangilinan
- Despite Duterte on her crosshairs, she is set to support Koko Pimentel, a known Duterte ally, for the Senate Presidency
Looks like the "Fiscalizer" has set her eyes on the "Punisher".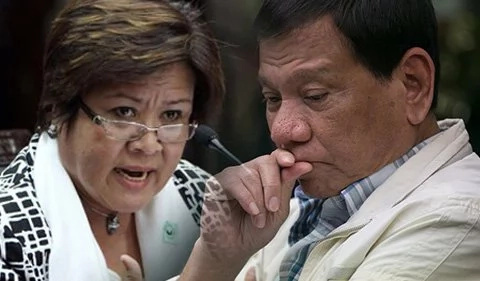 Senator Leila de Lima has long been observant and critical of the former mayor now President Rody Duterte in his campaign against criminality and drugs. Now that they have both leveled up in the positions they're holding, De Lima does not look like she's backing down.
Former justice secretary and human rights chief, Leila De Lima vowed to be as vigilant in the Duterte administration's all-out war against crime and drugs. She said that while Duterte goes out on a rampage punishing people, she will be the one to protect the civil liberties in the event of law enforcement abuse and excesses.
READ: History Lesson: Bloody drug war failed in the long run
De Lima sees herself as a "fiscalizer" when it comes to the war on crime campaign of this administration. While she concedes that the intention of the administration's thrust is noble, it is important to be constantly reminded that the pursuit of peace and social order should not be done at the expense of people's civil liberties.
She has already started making her move on Thursday when she called for a congressional inquiry into the series of drug-related killings and the vigilantism that's in play. The count of slain alleged drug criminals has already exceeded 100 since the President was sworn in office on June 30.
Two other senators- Antonio Trillanes IV and Francis Pangilinan- have shown their intention to join the investigation.
READ: Not enough rehab centers as surrendering addicts multiply
Meanwhile, De Lima emphasized the need for checks and balances among government branches. According to her, checks and balances play a pivotal role now more than ever.
De Lima in a text message said that if our Bill of Rights is compromised throughout the course of Duterte's campaign against drugs and crime, she won't turn a blind eye and sit idly by. She would speak out against any attack on people's rights.
The Senator fears that the constitution will be easily ignored and violated due to the abuse of executive power.
READ: Extrajudicial killings must stop – De Lima
It is the same fear that made De Lima pursue an investigation into the Davao Death Squad, a vigilante purge team, for being allegedly sanctioned by Duterte when he was still Davao Mayor.
Now that she is a senator, De Lima strongly believes that it is important to strike a healthy balance between her support for the administration's campaign to curb down crime, drugs and corruption, and her faithfulness to the Constitution.
But despite being a very vocal critic, De Lima will be one with her Liberal Party colleagues in joining the Senate majority composed of an alliance with PDP-Laban senators.
READ: New PNP head against vigilantism
She has also expressed her support to the bid of Sen. Koko Pimentel, a known ally of Duterte, for the Senate President seat.
De lima is also set to lead the Senate committees on justice, human rights, and electoral reforms.
READ: 4 reasons Duterte may be the best PH president
Source: Kami.com.ph