Erap to clear the streets of Quiapo after Divisoria
- Manila Mayor Joseph Estrada is planning on clearing up Quiapo after doing the same for Divisoria
- Estrada is targeting illegal vendors, undisciplined pedestrians, traffic violators, and illegal operators of public utility vehicle terminals
- The mayor is planning to clear up all the other districts after Quiapo in order to bring back the old glory and beauty of Manila
After cleaning up Divisoria, Manila Mayor Joseph "Erap" Estrada said on Friday that his next target is the commercial district of Quiapo, calling it the Philippines' capital of "obstructions and eyesores."
Erap said that he will go after motorists who violate traffic rules, illegal vendors and undisciplined pedestrians. He has also ordered the Manila Police District (MPD) to stop the operators of illegal terminals of pedicabs, tricycles and jeepneys that contribute to the heavy traffic in the area.
"Anarchy in our streets has to stop," the Manila mayor told the media.
READ ALSO: 'Duterte effect' hits Divisoria; look how clean it is!
Estrada also promised that he is implementing these initiatives in order to provide a long-lasting positive effect on Manila and not to gain popularity.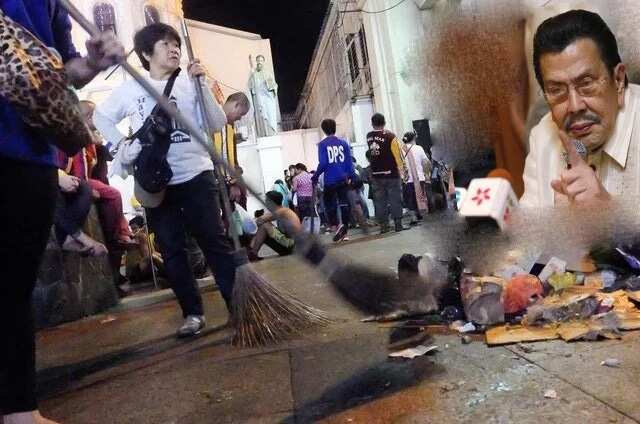 "Hindi puwedeng papogi lang 'to, eh. Tuluy-tuloy 'to, hindi lang Divisoria, 'susunod natin Quiapo, lahat ng districts, lahat 'yan susuyurin natin," he explained.
(This is not for show only. This is a continuous project. We will implement this not only in Divisoria. Quiapo will be next and the other districts will follow.)
READ ALSO: Top 5 things Duterte proved in his first week as president
Last week in Divisoria, the MPD and the Task Force Divisoria cleared up Recto Avenue, Blumentritt, Soler, Abad Santos, Reina Regente, Juan Luna, Antonio Rivera, Santa Elana, Plaza Ruiz and Narra. Estrada was also able to clear up the University Belt area weeks before the June 13 opening of classes.
Although he felt sympathy for the vendors whose small businesses were affected by the clearing operations, Erap said that he is prioritizing the greater good of the majority of people. The mayor explained that the vendors should be cleared out for illegally occupying areas on the streets because they cause traffic, eyesores, and accumulation of garbage in Manila.
Estrada added that his goal is to bring back the old beauty and glory of Manila and that he is willing to make sacrifices in order to achieve his objective.
RELATED: Why JV Ejercito pleaded not guilty to malversation charges against him
Source: KAMI.com.gh