- BRP Sierra Madre, a PH Navy ship positioned in Ayungin Shoal, was meant to serve as an outpost and to assert the country's claim over the West Philippine Sea
- A state-run media outlet has stated that China could tow or sink the BRP Sierra Madre 
- A retired diplomat said that it would be an act of war if China goes through with its alleged plan to sink the ship
According to a state-run newspaper with alleged close ties with the Chinese government, China could tow away or sink the BRP Sierra Madre ship of the Philippines in response to the upcoming international court ruling on the territorial dispute between the two countries.
The BRP Sierra Madre is a commissioned ship deliberately run aground in 1991 by the Philippine Navy to serve as an outpost for Philippine Marine Corps in the Ayungin Shoal. The old ship is also meant to assert the Philippines' sovereignty over the West Philippine Sea.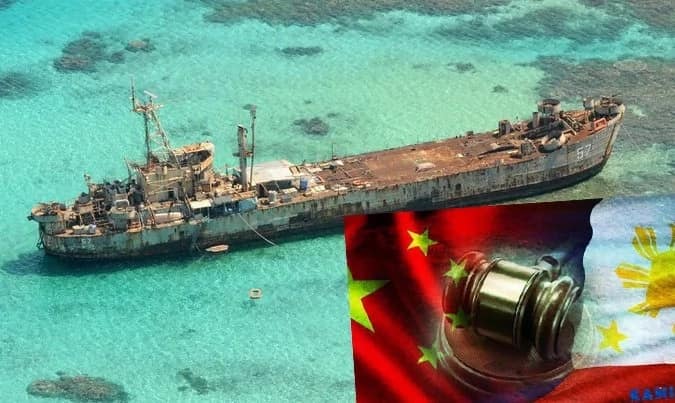 "If the US and the Philippines act on impulse and carry out flagrant provocation, China will not take a single step back.  If the US and the Philippines scheme to play some tricks around Ren'ai Reef (Ayugin Shoal), China could tow away or sink the "stranded" old ship (BRP Siera Madre), and resolve the standoff once and for all," the Global Times editorial stated.
READ ALSO: South China Sea update: Here's what US says
The Global Times operates under the support of the People's Daily – the Communist Party's official newspaper.
When asked to comment on the controversial editorial, Chinese Defense Ministry spokesman Wu Qian said that China has complete sovereignty of the Nansha Islands and their adjacent waters, including the Ren'ai Reef (Ayungin Shoal). This means that the PLA (People's Liberation Army) has the right to protect its sovereignty and territory.
READ ALSO: PH government makes shocking decision on South China Sea
Lauro Baja Jr., a retired diplomat, said that it would be an act of war against the Philippines if China sinks the BRP Sierra Madre once the Hague court ruling on the territorial dispute is released.
Chinese journalists and media outlets have been observed by various sectors to have intensified its propaganda efforts against the U.S. and the Philippines in recent months, ahead of the Hague decision.
RELATED: Beijing warns US, says there's price to pay if they intervene in South China Sea dispute
Source: Kami.com.ph