- President Rodrigo Duterte publicly announced the names of five alleged police generals linked to illegal drug activities
- PNP Chief General Ronald 'Bato' Dela Rosa denied the claim that the information came from him
- Bato stated that Duterte could have gotten his information from other intelligence agencies in the government
Although PNP Chief General 'Bato' Dela Rosa rejected the claim that the intelligence information linking the five police generals with illegal drug activities came from him, a picture captured by some photographers showed that on top of the paper with the generals' names were the words 'From Bato'.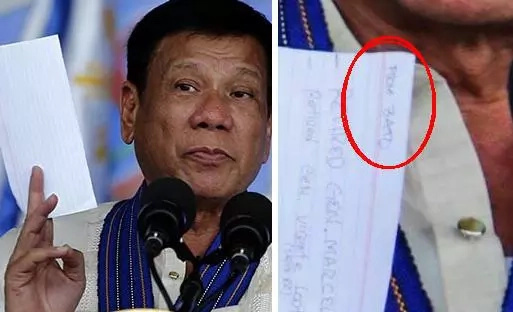 (photo credit: themaharlikan.info)
Dela Rosa claimed that  President Rodrigo Duterte could have gotten the information from other sources in his wide intelligence network.
READ ALSO: READ: Duterte, not afraid of death threats!
"Hindi ako yung nag-bigay ng information, si President Duterte malawak ang intelligence sources niya," he said.
(I wasn't the one who gave the information, President Duterte has a large intelligence network.)
The PNP chief also shared that there are other law enforcement agencies within their own respective intelligence agencies where Duterte could get his information.
READ ALSO: WATCH: Find out what scares Bato the most!
"The President can have access to all intelligence information na nakalap dito sa Pilipinas at sa ibang bansa. He is the President, 'yung kanyang information hindi lang nanggaling sa PNP, hindi lang ISAFP, NICA; lahat ng mga government agencies na may intelligence department," he said.
(The President can have access to all intelligence information that he can get from the Philippines and other countries. He is the President, the information he has does not only come from the PNP, ISAFP, NICA; all government agencies have their own intelligence department.)
READ ALSO: WATCH: Drug use inside the military? Here's what Duterte did
However, during the recent PAF anniversary, some photographers were able to capture a photo of the paper President Duterte held when he publicly named the five PNP generals linked with the drug trade. The paper contained the names of the five PNP generals – Gen. Diaz, Gen. Loot, Gen. Magarbo, Gen. Pagdilao, and Gen. Tinio – and on top of the paper were the words 'From Bato.'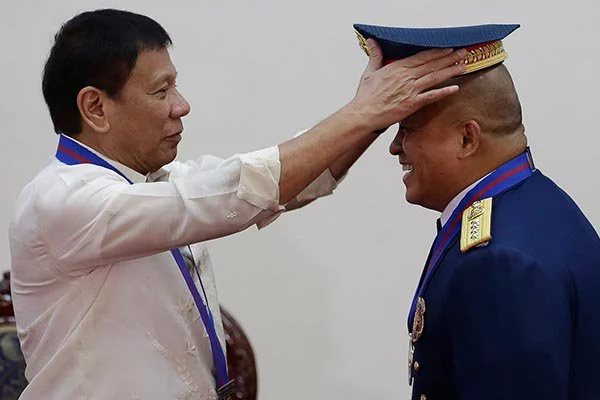 (photo credit: philstar.com)
During a press conference with Dela Rosa, the PNP chief said that the newly-sworn in president promised to drop more names of police who are allegedly connected to illegal drug trade.
READ ALSO: Mar Roxas linked to 5 drug generals?
"Hindi sa listahan ko pero sa listahan ni Presidente mukhang meron pa and I don't want to preempt [him] from divulging those additional information. Hintayin na lang ninyo. Basta my observation is, I think meron pa siyang sasabihin na mga additional na pangalan," he said.
(It looks as if the President has more on his list than mine and I don't want to preempt him from divulging those additional information. Let's just wait. My observation is that I think he will release more names.)-NB, Kami Media
READ ALSO: 'Bato' says he wanted to 'cry' with the accused generals during meeting
Source: Kami.com.ph