Duterte reveals drug lords in NBP
- Duterte named Herbert Colangco, Peter Co, and Peter Lim as drug lords, Colangco and Co had been known to run drug operations while still in prison
- Lim was accused of drug trafficking back in 2002 but NBI found no evidence to support the allegations
- Ombudsman Morales plans to form a task force and conduct a lifestyle check on the 5 retired and active police officials who Duterte revealed to be involved with drugs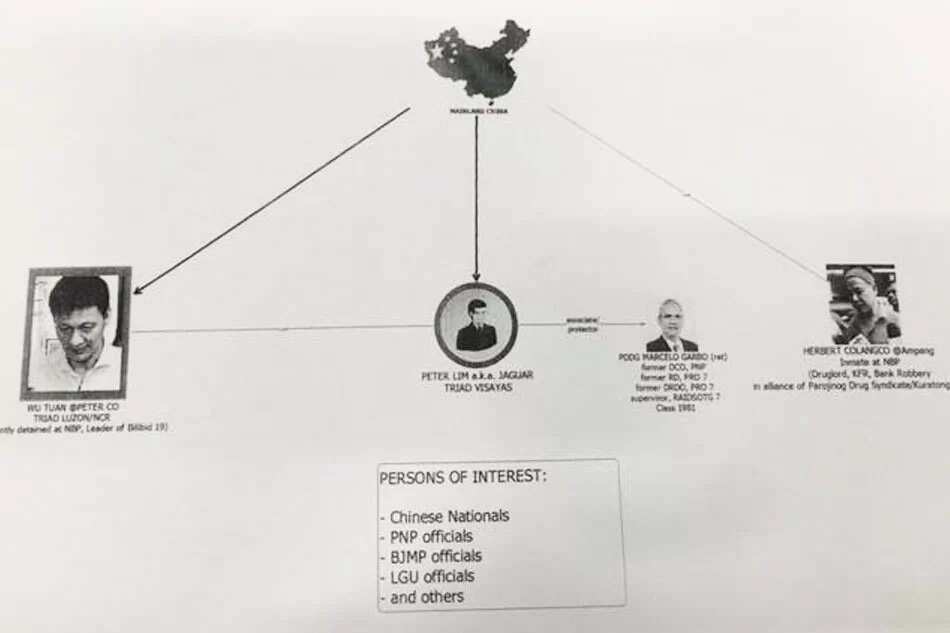 Following his revelation about the five retired and active police officials, President Rodrigo Duterte proved that his battle against drug syndicates is far from over as it has only just began.
The other day, the head of the state dropped additional names who were allegedly involved with the illegal substance. The drug lords were identified to be Herbert Colangco, Peter Co, and Peter Lim, with the first two being inmates at the New Bilibid Prison in Muntinlupa City.
Despite being placed behind bars as early as 2009, Colangco was still able to expand his criminal activities, now including drug dealing. These allegations were validated by several military and police officers, as he was initially sent to prison for robbery holdup.
READ ALSO: LOOK! Duterte backpedals on name-dropping narco-generals; here's what he says
Aside from managing a robbery holdup organization inside his cell, he also funds the drug operations of other inmates. Vicenty Sy, a recipient of his finances, manages to run the procedures through Colangco's lending company in Mindanao.
An ex-gang mate of Colangco revealed to officials that the accused drug lord was confident as he is under the protection of a former congressman and was even able to branch out his operations to BJMP prisons in Taguig City. In addition, he exposed that a lot of people in prison were involved with drugs. He further claimed that those from Muntinlupa would head to Bicutan even when Colangco was still a member of the NBI for drug transactions, with its distribution aided by the use of mobile phones.
On the other hand, Peter Co had already been a part of the list of drug lords since 2010, managing to run his operations until he was caught during a raid conducted by then Justice Secretary Chief Leila de Lima.
READ ALSO: WATCH: Drug use inside the military? Here's what Duterte did
Authorities were also able to identify a number of drug groups from numerous penal farms across Leyte, Mindoro, and Palawan.
Jonathan Morales, an anti-drug advocate and former PDEA agent, quipped that these drug operations receive accounts from Binondo-based drug lords and proceed to pass it on to their buyers.
Peter Lim, who was mentioned by Duterte, was one of those and underwent investigations from the House of Representatives and NBI back in 2002. Although 2 previous employees of Lim rose as witnesses, claiming that they were used as drug mules, the NBI failed to find further evidence. The witnesses were killed years subsequent to the investigation.
READ ALSO: WATCH: Duterte names 5 generals protecting the PH drug ring
As for the police officials who were also said to have relations with drug syndicates, Ombudsman Conchita Carpio Morales was set to meet with her deputies to discuss the probe on Monday. She intends to form as task force to investigate the officials, along with a panel to conduct a lifestyle check. - HB, Kami Media
READ: Diaz, Loot denies illegal drug accusations
Source: Kami.com.ph