- An exhausted father opted to sleep under his child's bed instead of heading home after 3 shifts
- His wife took to Facebook to share the touching moment
- The post had gone viral since then and they were grateful for those who reached out to them
A parent's love for their child knows no boundaries. They are willing to go through anything for the sake of their beloved son or daughter – and would even cross the world if needed. This dad is just one of the many out there who proves that even through humble actions, they could speak volumes about their feelings towards their children.
Amy Palmer shared a touching photo on Facebook which featured her husband Andre, sleeping under the crib of their baby in the hospital.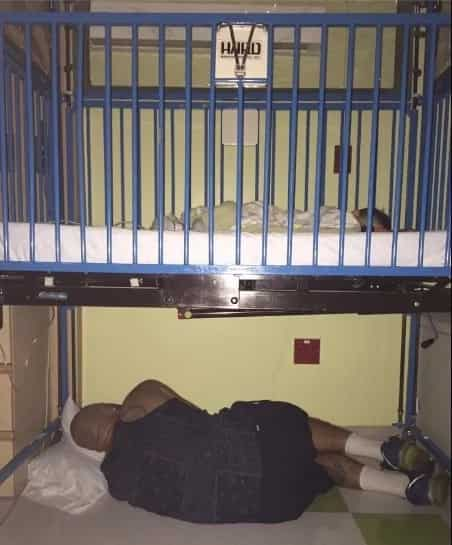 (photo credit: elitereaders.com)
Their son, Andre Jesse (AJ), suffered an asthma attack. Out of worry that Amy could not 'break' the child's attack at home, the couple was advised to have their son admitted. They proceeded to take him to York Hospital Pediatrics in Pennsylvania.
READ ALSO: A man tells his son he divorces his mom. But the truth is just perfect
Andre had just finished his third shift, but refused to cave in to exhaustion and even managed to drop their daughter at the daycare before heading straight to the hospital. Amy could not help but feel proud for having such a dedicated spouse and snapped the moment, even boasting on the website that he is the recipient of the 'Father of the Year' award.
The response to the post surprised Amy as she confessed to not having expected it. Since then, it has gone viral, earning 470 shares and being liked for more than five thousand times.
READ ALSO: LOOK: Crying father with medals goes viral again; find out why
The delighted wife expressed her gratitude later on with a different post. She claimed of being 'overwhelmed' with the entire experience, with hundreds of people reaching out to her to offer support and praise for her husband's selfless act. She also explained that she was asleep when Andre entered the room which was only big enough to fit AJ's crib and make-shift bed of a chair. Her husband opted not to wake her up, but grabbed a pillow and laid under their kid's hospital bed instead.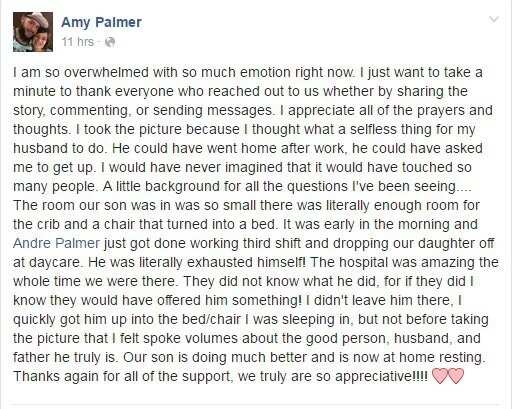 (photo credit: elitereaders.com)
In defense of the hospital, she reasoned that they were not informed of the situation or they would have offered something more comfortable for her partner. She also commended how they had no worries during their entire stay in the establishment.
Thankfully, they were released from the hospital and AJ has been doing better resting at home.-HB, Kami Media
READ ALSO: PHOTOS: This story of a young girl with cancer will make you cry
Source: Kami.com.ph