-Erwin Dolora, one of the three "Bangkang Papel" boys died because of Pneumonia
- Dolora, 24, lost his battle with Pneumonia last Thursday at San Lazaro Hospital
- The trio gained attention during President Gloria Macapagal-Arroyo's time when she presented them during her first SONA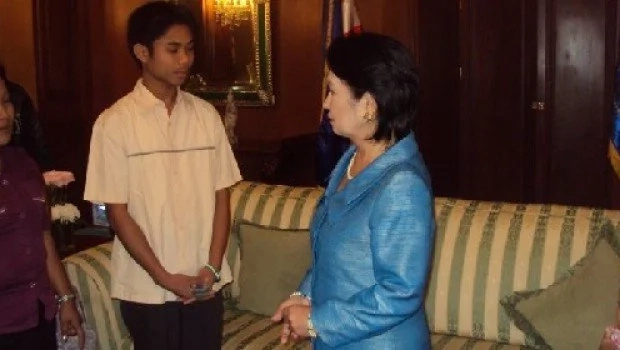 One of the "Bangkang Papel" boys, a symbol of the Arroyo administration, sadly passed away on Thursday Morning after a battle with Pneumonia.
The 24-year-old Erwin Dolora passed away at San Lazaro Hospital after two weeks of battle. Aside from Pneumonia, his sister, Irma Dolera-Palanas also mentioned a complication related to tuberculosis which ended the young man's life.
Dolera was 8 years old when he, together with his friends Jomer Pabalan and Jayson Vann Banogon, graces the first State of the Nation Address (SONA) of former President Gloria Macapagal-Arroyo.
READ ALSO: PGMA – FPJ poll lawyers' rematch
The three were among the 300 families in Payatas, Quezon City who were left homeless after mountains of garbage collapsed and buried the homes of a thousand residents. They caught the president's attention when they wrote their dreams and aspirations on paper which they folder as paper boats. They released the paper boats on Pasig river with the hopes of reaching Malacañang palace in 2001.
Though the paper boats never reached Malacañang, an urban poor group held an activity which reached and touched Arroyo.
In his letter, Dolera asked Arroyo to close the Payatas dumpsite and asked for his family to be given their own land.
READ ALSO: Duterte: Arroyo said no to pardon
The boys served as poster boys for Arroyo's administration and were invited to the palace. They also received scholarships, livelihood and other support services.
In 2010, Arroyo recalled the "Bangkang Papel" boys and expresses her continuous support for them even after her term as the president ended.
During President Aquino's term, Malacañang revealed that only two out of the three, including Dolera, accepted the scholarship grants. Their scholarship was supposed to be terminated in 2010 but the Aquino administration decided to continue it.
READ ALSO: A review of the past: PGMA vs Pnoy
Dolera was able to graduate with a Mass Communications degree at the Trinity University of Asia and spent his time as an on the job trainee at TV5 before landing a job as production assistant in the network.
Dolora's family is still arranging his funeral and his burial place. - HB, Kami Media
READ: Ex-President Arroyo drafts bill for Duterte's emergency powers regarding traffic
Source: Kami.com.ph