- A Chinese student invented an anti-cigarette smoke device to avoid whiffing second hand smoke
- He came up with the creation due to his roommates' smoking behavior
- He made us of simple materials and shared his design on Weibo, earning various reactions
One of the leading causes of lung cancer comes from the unstoppable vice of cigarette smoking. Despite all efforts, either from the government or from concerned loved ones, there are certain individuals who could not afford to give up the addicting behavior. This does not only pose a threat on their health but on those who surround them as well.
In fact, second hand smoke causes more problems rather than what the primary smoker receives. It contains higher concentrations of particles that could bring about cancer, therefore being more toxic. This must have been what a university student from Nanning in China been thinking of before deciding he has had enough and planned to take better care of his health.
READ: Are you an e-cig user? Here's a warning from the World Health Organization
The 26-year old resides in a dorm close to his college, forcibly put into a room with roommates who unfortunately smoke. With no choice in the situation, he came up with inventing a tool that could help him get rid of the cigarette smoke that lingers in their room, no matter if it was fresh nor just remnants of his roommates' actions.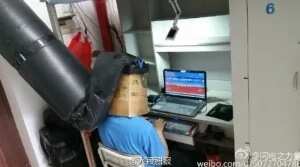 He made use of the most unconventional materials you could ever think off, possibly some just lying around their dorm. By putting together a cardboard, black garbage bags, and a clip on fan, he was able to create his very own nebulizer.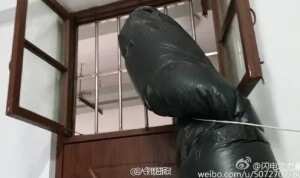 He cut and taped the garbage bags together, forming a cylindrical shape and attached it to the cardboard. The other end of the garbage bags was connected to a fan, responsible for supplying him with fresh air as he puts the cardboard box on his head.
READ: No cigarette sale and use every 15th of the month – solon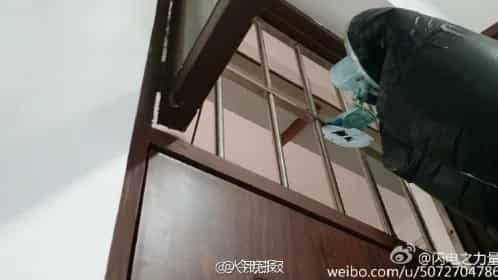 The youngster shared his design on China's micro-blogging site, even providing them a blue-print of it apart from the actual photos. It prompted a divide among web users into various reactions. Although some people commended him for his creation, others were criticizing him; calling him a 'human air duct' and accused him to die of overheating.
READ: Cancer survivors, health groups support Duterte's no smoking policy
Source: Kami.com.ph