- 950,000 people joined the march at the Gay Pride Parade in Germany
- This year, they are organizing the event as a tribute to honor the 49 people killed in the Orlando massacre
- A fluvial parade highlighted the festivities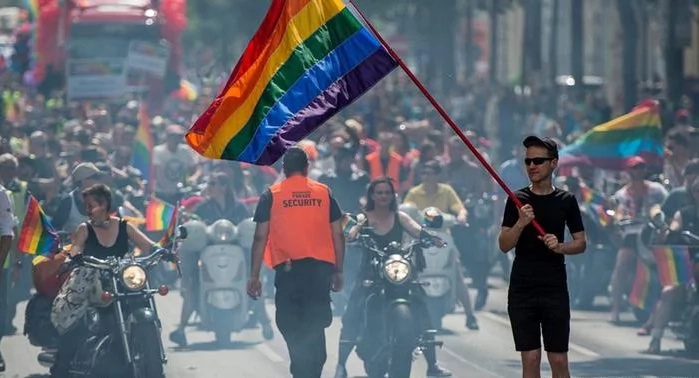 Close to a million number of people marched as they joined the Gay Pride Parade also known as Berlin Pride Celebration held in Western Germany on June 3.
Every year, the people wave their rainbow flag as a gesture of promoting LGBT rights as they parch along the streets of Berlin. But more than a rights rally, it is a mass party where people dance to the booming music while confetti and bubbles rain down on them.
This year, the marchers waved around banners that say "WE ARE ORLANDO" as tribute to the 49 people killed in the grievous Orlando massacre happened last June 12.
READ ALSO: [VIdeo] Justin Trudeau: first Canadian PM to attend gay parade
"We wear black ribbons – let's not forget Orlando," said the Green Party's parliamentary vice president Claudia Roth in her speech as reported in the local daily newspaper Koelner Stadt Anzeiger.
A fluvial parade highlighted the event as floats sailed across the Rhine River then passed through the center of the city. People from different organizations in colorful costumes are aboard the floats.
Mainly, they call for the end of homohate and racism especially in Germany. While other groups called for help for gay refugees in Germany and some demanded for the granting of same-sex couple rights.
READ ALSO: #Loveislove: Celebs support Angelina Mead King
The Berlin Pride parade is usually held at the end of June each year since 1979. But this year, it was celebrated days later.
It is the largest LGBT-organized event in Germany and one of the largest in Europe which was joined by others from all over the world.
This year, there are as many as around 950,000 people who joined the event, as estimated by the event organizer Nils Schmidt.
RELATED: LOOK: Top 10 gay-friendly countries you may visit
Source: Kami.com.ph