DOH signs deal for Hopeline Project
- Health Secretary Paulyn Ubial said that mental health is one of the priority concerns of the DOH
- The Department of Health partnered with the National Center for Mental Health and the Natasha Goulbourn Foundation (NGF) to formally establish the 'Hopeline Project'
- The mental health legislations filed by Vice President Leni Robredo and Sen. Pia Cayetano failed to pass in the previous Congress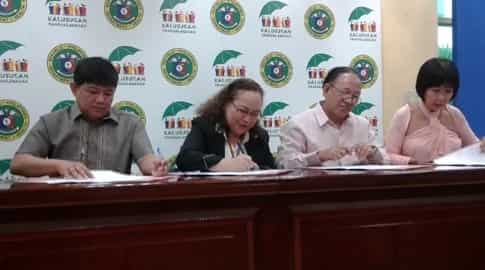 The Department of Health (DOH) signed a Memorandum of Agreement (MOA) with the National Center for Mental Health and NGF to create the 'Hopeline Project'.
Hopeline aims to help people suffering from crisis and depression by connecting them to counselors and mental health professionals. These trained "crisis responders" will answer calls and give information and crisis support to every caller. Those who are identified as having suicidal tendencies will be provided with a suicide safety plan. If the responders are unable to provide help over the phone, they can refer the caller to a medical facility.
Hopeline will officially operate in September 2016.
READ ALSO: Why the DOH is alarmed with 26 new HIV/AIDS cases
DOH Secretary Paulyn Jean Rossell-Ubial said that mental health is included in "modern-day living diseases" and raising people's awareness regarding it is of extreme importance.
"It's not visible to the eye. Kung merong (If there is) heart attack, cancer, kita mo yun eh(you can see it)," Ubial said.
"Pero mental health wala (But not with mental health.) It can be anyone of you here," he added.
Ubial is confident that Hopeline will provide a solution for people suffering from crisis and depression. "We are very optimistic that we can fully implement HOPELINE and address mental health issues in a very innovative way," she said.
READ ALSO: Contraceptives to become more costly and scarce – DOH
The first global report on suicide published by the World Health Organization in 2014 state that more than 800,000 people die by suicide every year with around one person every 40 seconds. The study also revealed that most suicides in the world occur in the SouthEast Asia Region.
Despite these alarming statistics, the Philippines ranked low in terms of suicide rates – 150 out of 170 countries. In 2012, the estimated number of suicides was 2,558 (550 females, 2008 males) or a suicide rate of 2.9 per 100,000 populations. This is significantly lower than the annual global age-standardized suicide rate of 11.4 per 100,000 populations. The country also has the lowest suicide rate among ASEAN-member states.
However, Ubial said that there is a lot of stigma or taboo attached to mental health in low and middle-income countries like the Philippines. As such, there must be initiatives and actions undertaken to address this issue.
READ ALSO: Duterte names DTI, DOT, DOH secretaries
"The families and friends of people suffering from depression are equally important, and they need to know and understand the illness to enable them to respond and provide constructive support to their loved ones during the difficult times. Let us work hand in hand to deliver the proper help to them." Ubial concluded.
Hopeline hotlines may be reached 24/7 through:(02) 804-HOPE (4673); 0917 558 HOPE (4673) and 2919 (toll-free number for all GLOBE and TM subscribers).
RELATED: DOH to end HIV epidemic by 2030
Source: KAMI.com.gh