- 13 army soldiers tested positive in the mandatory drug test last Tuesday and are facing dismissal
- No soldier is exempted in the surprise drug test even the Army chief
- 204 soldiers were discharged from service since 2012 because of drug related charges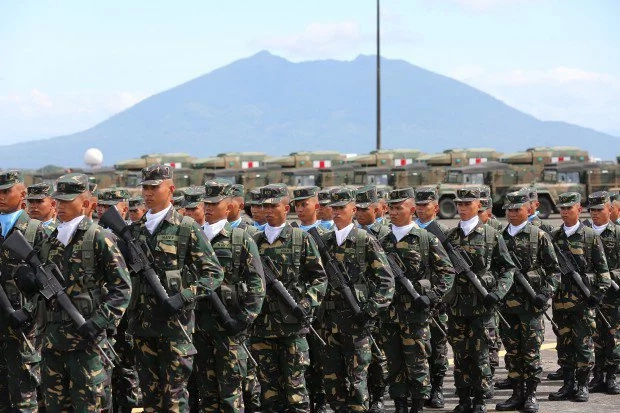 It is now confirmed that the thirteen army soldiers assigned in the headquarters who tested positive for illegal drugs are under military custody.
Last Tuesday, three thousand troops of the Philippine Army were subjected to a surprise urine drug test in coordination with the Philippine Drug Enforcement Agency (PDEA) in Fort Bonifacio.
The test was done after the soldiers' morning exercises not exempting anyone to take the test even Army chief Lt. Gen Eduardo Año himself. The mandatory test started at 5 a.m. and ended around 6:30 p.m. According to the Army spokesperson, Col. Benjamin Hao, that 13 out of 2,500 military personnel failed the initial screening test.
READ ALSO: Cops rewarded for killing pushers in Cebu; Find out how much!
After the initial test, they are now waiting for the confirmatory results which will be released next week. As of now, no information about their positions was mentioned.
According to Hao, the surprise drug test is an initiative of the army dated as early as 2012. In fact, 131 soldiers were discharged during 2013. Followed by a smaller number of 38 in 2014 and a decrease again in 2015 with only 30 officers discharged due to drug related charges. Just this year, 5 were relieved from service in a total of 204 soldiers.
READ ALSO: One more for Duterte – Tagbilaran City drug lord shot dead
Hao also clarified that the soldiers who underwent the test are the troops deployed near Manila but other Army units in the field are also currently undergoing mandatory drug tests.
This was done in coordination with President Rodrigo Duterte's relentless campaign against the drug trade in the country. The president is eyeing the involvement of the military against illegal drugs. In fact, he named 5 generals were named in public who he believed coddling drug syndicates.
The military mandatory drug test was done days after 9 police officers also tested positive under the operation done by Philippine National Police Director General Ronald "Bato" dela Rosa.
RELATED: Mar Roxas linked to 5 drug generals?
Source: Kami.com.ph