PHOTO: Vigilantes kill Bulacan cop linked to drugs
- Police Officer 3 Michael Lee Manalad of the Malolos police was found murdered on Thursday
- There was a sign strapped to Manalad's body which indicated that he was a drug pusher
- The police provincial director said that Manalad was under surveillance for being suspected of working for a drug syndicate
The corpse of (Police Officer 3) PO3 Michael Lee Manalad, a policeman from Malolos, Bulacan, was found at around 12:47am, Thursday morning in Ubihan village, Meycauayan City.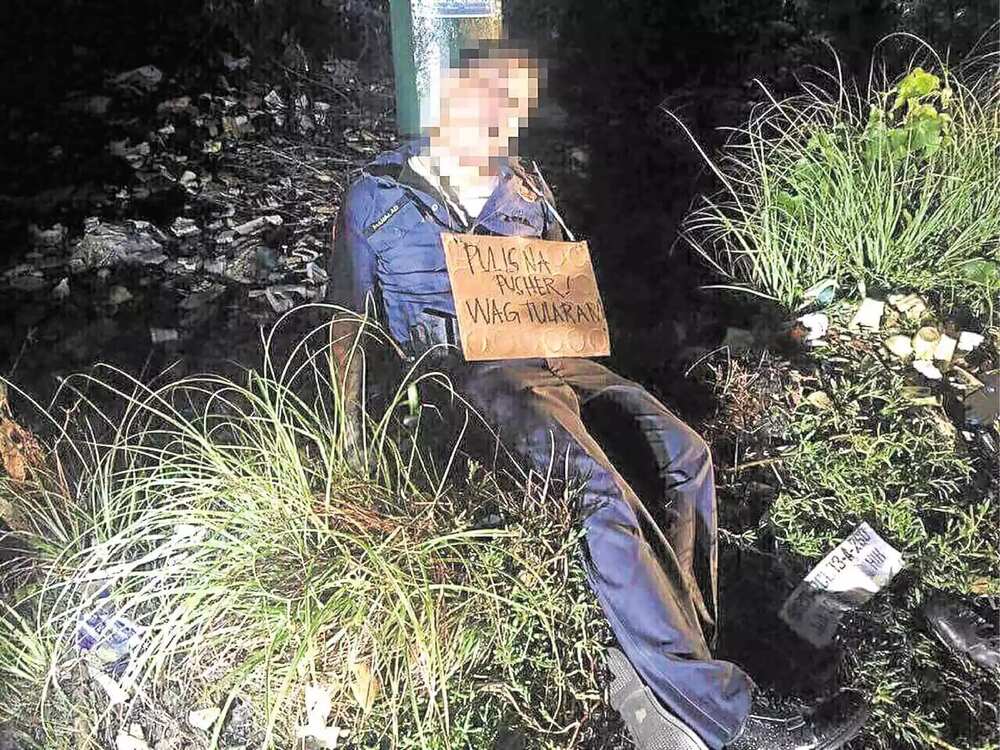 Strapped to his body was a sign that read: "Pulis na pusher, wag tularan (This policeman is a drug pusher. Do not emulate him.)"
The dead cop was wearing his uniform when village residents found him. Authorities also found sachets of suspected crystal meth or shabu in his pockets.
Manalad came from Basilan province and worked as a member of the Malolos police mobile patrol unit.
READ: Bloody day: 8 more killed in Manila under Duterte administration
Authorities are still investigating if the death of Manalad was a fallout from the revelation of President Rodrigo Duterte that the five police generals – retired Deputy Director General Marcelo Garbo Jr., Director retired Chief Superintendent Vicente Loot, Joel Pagdilao, Chief Superintendent Edgardo Tinio, and Chief Superintendent Bernardo Diaz – were involved in illegal drug trade in the country.
Manalad's family has requested the public and the media for privacy while the authorities conduct their investigations for the policeman's murder.
Although city police chief Supt. Arwin Tadeo said that there has been no official complaint sent to the Malolos police about Manalad's link to illegal drugs, provincial director Senior Supt. Romeo Caramat Jr. disclosed that Manalad was one of the policemen who were under police surveillance on suspicion of ties with drug crime syndicates.
READ: 'Bato' says he wanted to 'cry' with the accused generals during meeting
Caramat has said earlier during a Wednesday radio interview that policemen who work for crime syndicates should surrender themselves peacefully before "they become part of the statistics."
Before officially assuming office last June 30, President Duterte has urged cops and private citizens to bring drug criminals to authorities dead or alive.
The cases of vigilante killings and drug-related arrests and kills by the police have increased significantly in recent weeks. -DN, Kami Media
RELATED: CBCP condemns rising cases of vigilant acts
Source: KAMI.com.gh