- President Rodrigo Duterte took time to attend Gilas' game against France
- He even entered the court, shaking hands with both team's player and performing the ceremonial toss
- The members of the team expressed their gratitude for the leader's presence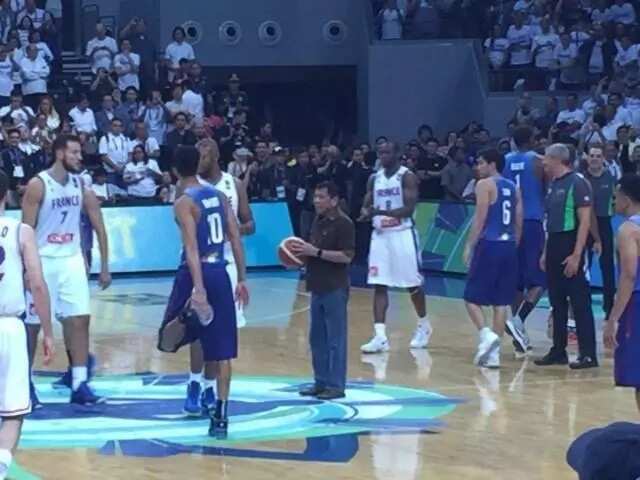 (Photo from gmanetwork.com)
A few days after assuming the position, President Rodrigo Duterte had already found himself stuck in a tight schedule of appearances and meetings. Despite the hectic of it all, he was still able to express support to the nation's pride, Gilas Pilipinas, during their first game on the Olympic Qualifying Tournament against France.
Prior the game last Tuesday at the Mall of Asia Arena, there were already speculations that he would be present to watch the game live. It was only until he entered the court, accompanied by the FIBA officials and those from the Samahang Basketbol ng Pilipinas that the assumptions were proven true.
Fresh from the Philippine Air Force's 69th anniversary celebration at the Clark Air Base, he performed the ceremonial toss between Gilas and France which was received warmly by the crowd, erupting into applause and cheer for the country's leader aside from the team.
READ ALSO: WATCH: The Duterte family like you've never seen before
Despite the heartbreaking loss due to a 9-point deficit, he was still seen applauding the team's performance at the end of the game, who played with conviction until the end.
This has earned him words of gratitude from the members of the team. Marc Pingris, who had been openly supporting Duterte since the campaign period, admitted feeling excited to begin the game not only for himself but also for the president, thanking him for making time to attend the event.
READ ALSO: WATCH: Gilas Pilipinas fights bravely, but falls short vs France
Gilas veteran Ranidel de Ocampo was also very delighted on how Duterte made it a point to watch their first game, and did not wait until they had earned a spot to do so.
It could be noted that former president Benigno Aquino III had watched the gold medal game of Gilas at the 2013 FIBA Asia Championship.
De Ocampo shared that Senator Sonny Angara and Congressman Robbie Puno were the only government officials who had been committed on watching their games, so having the head of state's presence during a crucial game was something else.  
RELATED: WATCH: Duterte impressively tosses ball during Gilas vs France
Source: Kami.com.ph