- ABS-CBN broadcaster Doris Bigornia has outraged fellow concertgoers
- It was captured on a video that soon went viral
- The incident where the female reporter was involved happened in April 17 last year during The Script's concert in Manila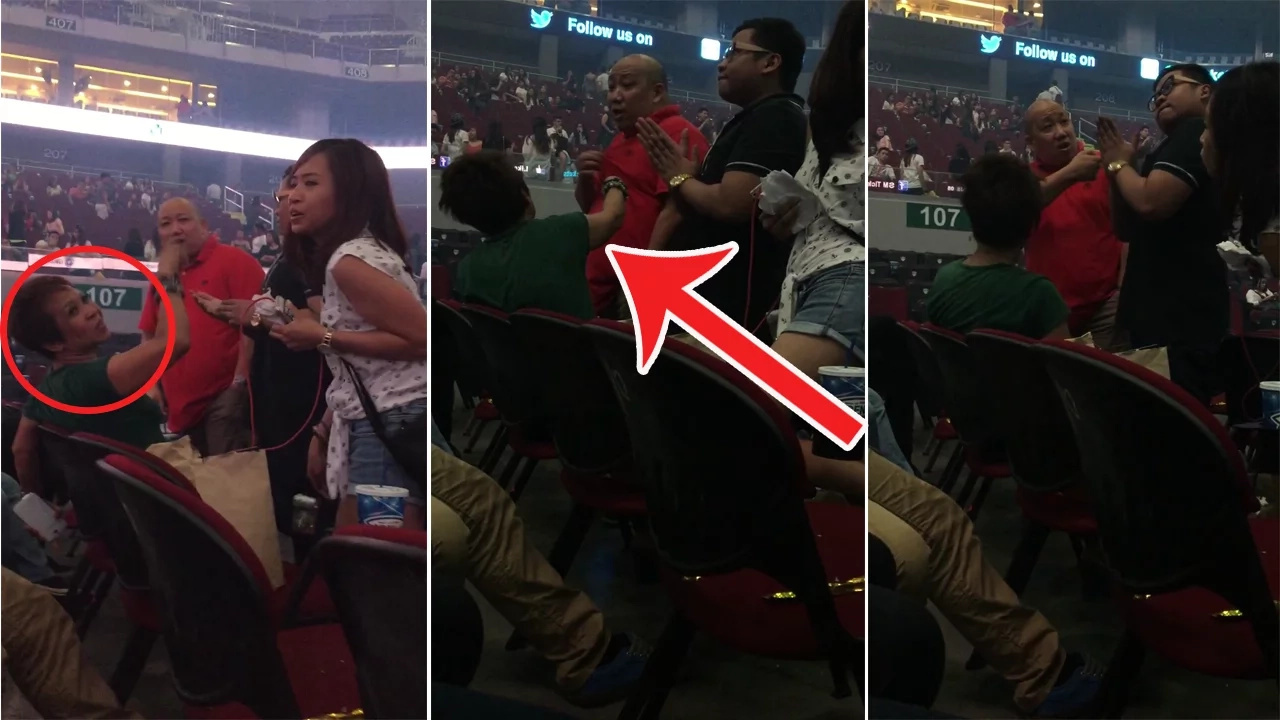 (Photo from pinoynewsblogger.blogspot.com)
A Facebook post by a certain Richard Lim entitled "The Dark Side of Doris Bigornia" narrates how Bigornia, her daughter, and other spectators destroyed their viewing experience by being a distraction and a nuisance during the Irish pop rock group's show.
Lim started by writing how his wife and son got to watch the concert on VIP tickets. Their seats were located at the center, near the stage.
When the artists arrived to start their show, Bigornia and her daughter allegedly rushed into the VIP area and ignored the bouncers who were instructing them to go back to their seats because of the numbered seating arrangement of the concert.
READ ALSO: WATCH: Netizens get 'kilig' with Mariz Umali and Raffy Tima's Thinking Out Loud version
Everything started going downhill, Lim wrote, when they started rushing in front of the stage, shoving past and hitting him and his son. The movements were so intense, their food and drinks were shoved out of their hands, spilling all over the place, and he and his son themselves were being pushed out of their seats.
The bouncers briefly managed to control the crowd by pushing them back, but Bigornia, her daughter, and a few other people refused to leave.
"I went to her and ask her politely and said, 'Ma'm favor lang, I'm seated right behind you and you are blocking my view' and she didn't even reply but instead looked over to the other side," he wrote.
READ ALSO: The Filipino wit hits social media once again! Replacing famous lines with #PakGanern
Lim's son was already "hyperventilating" because their area was too crowded. Bouncers tried to push Doris and the crowd away, but Bigornia's daughter yelled at the bouncers, demanding that everybody else should leave before they would.
Lim approached her a second time, asking her to go back to her seat because his son was getting dizzy.
Disappointingly, Bigornia only replied: "Wala akong paki kahit mamatay siya diyan."
(I don't care if he dies right there)
READ ALSO: READ: Atty. Bruce Rivera's open letter to Raffy Tima
This threw him off, and asked her: "Ganyan ba kayong mga taga media, sa TV lang matino, sa totoong buhay eh wala palang pakiaalam?"
(Is this how all media personalities behave - sensible on TV, but insensitive in real life?)
However, Bigornia chose not to reply. She and her company only returned to their seats when the show ended.
As Lim and his family were exiting the venue, he said he spotted Bigornia "with a grin", so he decided to confront the reporter, who was with her daughter and son.
READ ALSO: Call to boycott Duterte not from PH media – NUJP
Bigornia was quoted to say "Yan ang hirap sa inyo eh, porque media ako iniipit nyo ako tapos youtube nyo agad."
(That's the problem with people like you, just because I'm in the media you try to corner me and put it all on Youtube.)
Lim retaliated by saying that the real problem was her behavior at the concert, despite her job as a media personality. This led to hated argumentation, which Lim seemingly chose to end because Bigornia was not apologetic for her actions, and her children were unabashedly cursing him in front of all the concertgoers in Arena.
READ ALSO: Karen Davila reacts to Duterte's comments on journalist killings
He urged people who managed to take videos of the event to post it online and share it on social media, so the clamor would reach ABS-CBN management. The incident, according to Lim, was a "conduct unbecoming of a media personality".
Bigornia has already apologized for her conduct at the concert, but denies making the harsh statements that were detailed in Lim's post. - MB, Kami Media
RELATED: An open letter to Doris Bigornia
Source: Kami.com.ph