- A magic trick had gone wrong for TV host Marzena Rogalska
- As she was tasked to slam her hand down on a brown paper bag, she impaled her hand as the bag contained a long nail
- The host was immediately taken to a hospital and was reported to be fine after receiving a tetanus shot
Magicians are known to be a life of whatever party he attends, impressing the audience with tricky stunts and illusions, with some even volunteering to be a part of the act. On some events, though, the performers tend to raise the bar higher and include very dangerous feats which have the people holding in their breaths until successfully done.
Usually, these so called magic tricks end with a chorus of 'wow' and a round of applause. However, for this particular situation, it took a turn for the worst fear any person could have – a failed act.
A TV show in Poland entitled 'Question for Breakfast' invited a semi-finalist from 'Poland's Got Talent' to perform a stunt one morning. The host, Marzena Rogalska, would be playing a role on the act as well.
READ: They set hidden cameras in a zoo. What they caught the man doing to orangutan female is a shock
At the beginning, the magician was seen preparing the materials he needed for the feat. He showed that a long nail would be hidden in one of the brown paper bags, and rearranged its order as to portray that he had no inclination on where the bag with the nail would be placed. And as it turns out, he really did have no knowledge about it.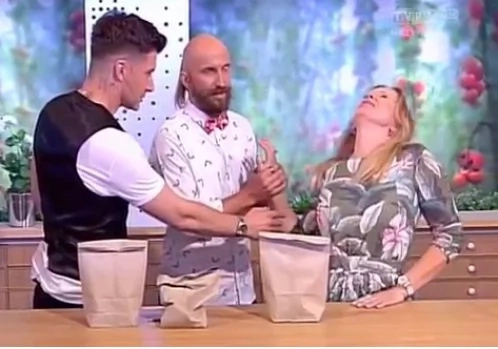 The magician demonstrated what Marzena would be doing for the stunt – he slammed his hand on one of the bags which deflated easily. Assisting the host, he held her hand and slammed it on another bag – impaling the host's hand. The 46-year old reeled back in agony as she screamed in pain.
Thinking it was a silly play done by the host, the assistant was giggling until he noticed the urgency of the situation when Marzena was obviously not joking. The duo looked clueless on how to handle the scene, with the host asking for help. They took her off camera and was immediately sent to the hospital for treatment.
READ: See what Japanese penis festival is like. Some of the things they do there are shocking!
The producers of the program shared that the trick was rehearsed prior its live segment and went on without a hitch.
Marzena did not appear for the rest of the show after the incident. Thankfully, her injury was said to be superficial and was given a tetanus shot. She also reassured her fans on her well-being, posting on Facebook to offer her gratitude for their support and informing them that she is fine.
READ: Lucky workers took leave for 15 years; boss did not notice2
Source: Kami.com.ph