- Arun Patel lost his nose when he was just a baby due to infection
- Doctors decided to help Arun by giving him a complex and unique plastic surgery
- The surgery involved growing an artificial nose on the boy's forehead, removing it from the forehead, and placing it on the correct area on his face
Doctors in India have successfully replaced a 12-year-old boy's nose by growing a new one on his forehead.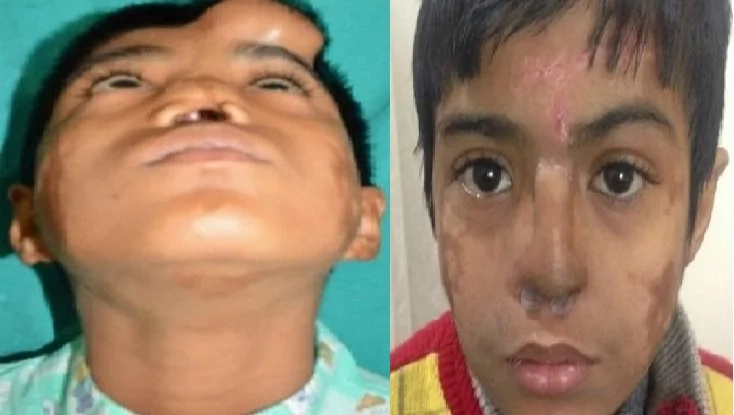 Arun Patel, age 12, suffered from pneumonia as a baby. He was taken by his mother to a village doctor who gave him a treatment that made his condition even worse.
The infection spread and damaged the cartilage and tissues of Arun's nose which left him badly disfigured.
READ: WATCH: Things you can never imagine to exist inside the human body!
After a decade of being disfigured, a group of doctors in Indore city gave the boy a rare four-phased plastic surgery with the intention of providing him a new nose.
The complex operation – which was also done in China in 2013 when a man lost his nose in a traffic accident – took about one year to complete.
The first phase of the plastic surgery involved putting a silicon tissue expander on the boy's forehead in order to create space for a new nose to grow. A special chemical was then injected to initiate tissue expansion on the forehead.
READ: WATCH: Indonesian man can lay eggs!
The second phase of the surgery required taking some cartilage bones from the boy's chest which will be used to create a new nose. The new nose grew on the boy's forehead for a period of three months.
The third phase of the rare surgery involved removing the artificial nose from the boy's forehead and implanting it on the correct area of his face.
The fourth phase was for repairing the wound on the boy's forehead caused by the removal of the artificial nose. According to the leader of the surgical team, Dr. Ashwini Dash, the new nose would work as normally as the boy's other body organs.
SHARE this Arun's incredible story with your family and friends!
READ: WATCH: Horrifying video of a woman eating live scorpions non-stop
Source: Kami.com.ph