- Senator Gringo Honasan laments the "trial by publicity" of the generals allegedly involved in illegal drugs trade
- He believes due process and rule of law should be maintained as these individuals have families
- Sen. Panfilo Lacson has said there is no reason to doubt the President's sources
Senator Gregorio "Gringo" Honasan II revealed on Wednesday that he does not approve of the "trial by publicity" on the five generals allegedly protecting drug lords.
Honasan said that due process and the rule of law should be applied to these generals as these individuals have families of their own who may or may not have anything to do with the accusations.
"The names are immaterial as long as due process and the rule of law are applied; and until the final verdict on their guilt or innocence, they should not be subjected to trial by publicity…" he said.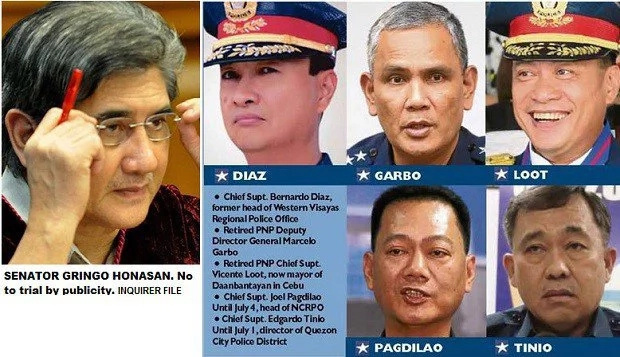 READ: Malacañang refuses to release evidences vs. 5 police officials
The statement was released by Honasan even after Senator Panfilo Lacson already said that there is no reason to doubt the information of the President. Lacson earlier said that President Rodrigo Duterte must had "good basis" in publicly naming the top cops involved in illegal activities. Lacson said he had information with regard to two of the five names mentioned by the President.
"All I'm saying is, since the President himself mentioned those two names among the five, he must have good basis in what he divulged, especially if he had a different source of that information," Lacson said.
The President dropped five names of top officials during the Philippines Air Force 69 anniversary. These are retired Chief Supt. and now Daanbantayan town mayor Vicente Loot; Deputy Director General Marcelo Garbo; Chief Supt. Edgardo Tinio; Chief Supt. Bernardo Diaz; and Chief Supt. Joel Pagdilao.
President Duterte said in his speech that he believes it is his duty to disclose everything. He believes that these officials are one of the many reasons why the law and order of the country is deteriorating.
Meanwhile, the five generals have denied the accusations.
On the other hand, PNP Chief Ronaldo "Bato" Dela Rosa has met with three of the five generals Wednesday.
READ: 'Bato' says he wanted to 'cry' with the accused generals during meeting
Source: Kami.com.ph