- Senator Gordon said that he is on the same side with President Duterte in leading the country to be better and even praised the latter for his excellent inaugural speech
- The Senator however opposes the implementation of the death penalty in the country
- Richard "Dick" Gordon placed 5 in the senatorial race during the May 9 National Elections, garnering 16,719,152 votes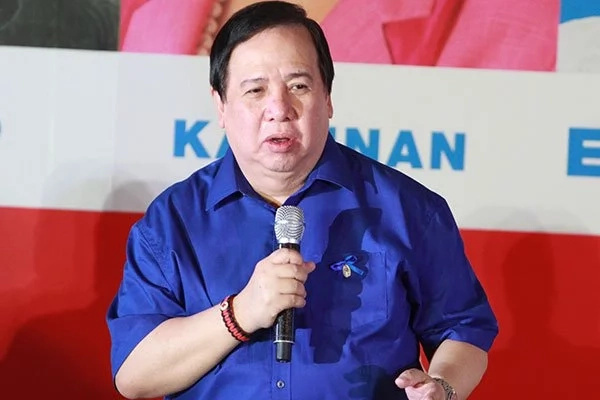 Returning Senator Richard "Dick" Gordon expressed his support for President Rodrigo Duterte with the goal of seeing a brighter Philippines, but went against the re-imposition of the death penalty, a political agenda being pushed by the current administration.
This was announced by the senator himself during his speech at the monthly membership meeting of the Philippine Constitution Association (PHILCONSA) on Thursday, July 5, at the Manila Hotel.
Senator Gordon, who is also the chairman of the Philippine National Red Cross, shared an experience when his father was killed by an alleged chief of police in Olongapo City and said that seeing the killer and the family of the latter suffer because the perpetrator is in jail for life is a better crime deterrent than the death penalty.
READ ALSO: LOOK! Senators react to Duterte's announcement
Although he admitted the imperfection and vulnerabilities of the present justice system this country has, he nonetheless said that "it is better to commit a mistake while the guy is still alive," than to kill someone who would later on be proven as innocent.
Dick Gordon also criticized the police who are suddenly very aggressive. According to him, the number of casualties of the police increased. He still hoped that correct protocols are being followed.
Senator Gordon, however, made it clear that he is not against President Duterte.
He even commended the inaugural speech of the president, especially the line "(y)ou do not change the rules in the middle of the game," which he described as music to the ears of the international and domestic business. According to him, it gives the world the message that Filipinos "will honor our contracts and obligations. We will honor international law."
READ ALSO: Manny Pacquiao says 'yes' to death penalty by hanging; here's why
Senator "Dick" Gordon also served as secretary of the Department of Tourism. It was during his time that the infamous "WOW Philippines" campaign was rallied and tourism boomed, amidst SARS outbreak, series of bombings, and the happenings of other unfortunate incidents in the country. - HB, Kami Media
READ: Duterte on corrupt government officials: I will fire you!
Source: Kami.com.ph