- Lani Mercado takes oath as the new mayor of Bacoor City.
- The oath-taking ceremony was presided by detained husband, former senator Bong Revilla.
- The ceremony was witnessed by supporters and Lani Mercado's family.
A lot of supporters were expecting Lani Mercado to have her oath-taking as the new mayor of Bacoor City under her son's leadership --  Cavite Vice Governor Jolo Revilla last July 1.
However, the supporters were in for a surprise after Lani Mercado's husband, Senator Bong Revilla, appeared on a big white screen inside the St. Michael's Church during her oath-taking. Bong presided the ceremony.
At first, the supporters thought that the ceremony was live streamed. However, it was not.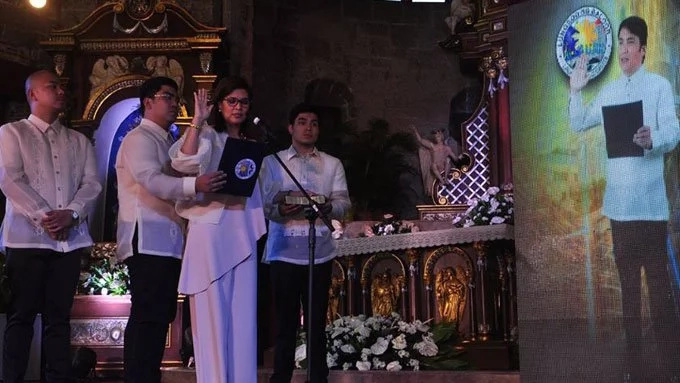 READ: Sandigan declines Revilla's request to attend Senate session
Lani explained that it was actually filmed earlier as they feared that there might be interferences when they go for live streaming. In other words, they followed the flow of the video, which was taken two days before the ceremony day.
The video was taken insider the Custodial Center at the Philippine National Police (PNP) at Camp Crame, where the actor-politician is currently detianed for graft and corruption charges. The former senator was linked to the pork-barrel scam.
Questions with regard to where they got and who granted them the permission to film Bong surfaced. Accordign to Lani, they asked permission from the police – not from the courts.
Meanwhile, the ceremony, all in all, received an overwhelming response from the supportes.
READ: Celebrity mayoral candidates leading the polls
Lani disclosed that she had mixed emotions due to how the event turned out. According to her, she was happy and sad at the same time. She further said that she felt Bong's concern and support toward her.
She said that Bong consistently gives her the confidence, admitting that her husband usually gives her the assurance that she can do it. She just has to take it slow. She disclosed that she would not have the strength if it was not for Bong.
"Everything that I am right now, siyempre una ang Panginoon, si Bong talaga ang gumagabay sa akin (Everything that I am right now, I owe it to the Lord and to Bong who guides me)," she said.
The event was considered the first when it comes to digital pledging rites.
Source: Kami.com.ph