- President Rodrigo Duterte performed the ceremonial toss for the basketball matchup between Gilas Pilipinas and the French national team
- Many people applauded Duterte for his impressive toss and the moral support he was able to give to Gilas
- Gilas lost to France but only by a slim margin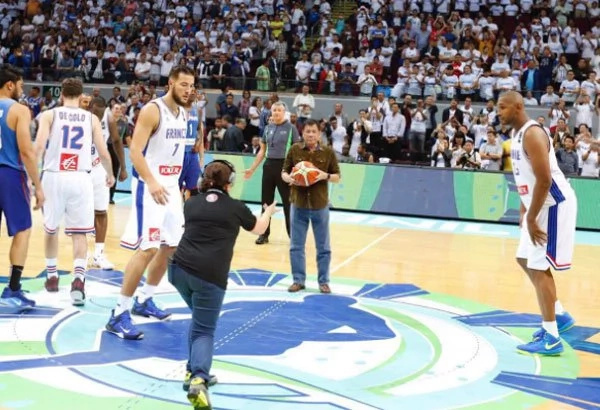 President Rodrigo Duterte attended the highly-anticipated basketball matchup between Gilas Pilipinas and France at the FIBA Olympic Qualifying Tournament held at the Mall of Asia Arena on July 5, Tuesday night.
Aside from attending the event, the newly-sworn in president was also given the honor of conducting the ceremonial toss for the basketball game. The video of Duterte's ceremonial toss has become viral, with many viewers commenting that it was an impressive toss from the president.
Duterte drew loud cheers and applause from the audience as he entered the court, and he also promised to provide moral support for the Gilas Pilipinas national team.
READ ALSO: Duterte finally asks Robredo for help; Leni calls Rody 'warm' & 'friendly'
The moral support from the president seemed to have a big effect on the team, as Gilas Pilipinas was able to perform better than expected, losing to France by only nine points, 93-84.
"Everybody saw the game. It was a highly-competitive game. We felt we needed to get off to a good start," Gilas head coach Tab Baldwin said.
The Philippine national team was a big underdog against France which is currently ranked by FIBA as the fifth best men's basketball team in the world. Gilas is ranked 28th. Baldwin noted that other Asian countries such as Iran and Japan were blown out by stronger teams during the first round games of the tournament.
READ ALSO: Duterte banknotes to be out this year
Fortunately, Gilas Pilipinas still has a chance to get to the semifinals and win the whole tournament if they beat the New Zealand basketball team on Wednesday night.
The Philippines has to win this tournament in order to qualify for the 2016 Summer Olympics in Brazil. The national team has not been able to compete in Olympic basketball since 1972.
RELATED: WATCH: Not everyone with tattoos, piercings is a drug addict — Baste Duterte
Source: Kami.com.ph