- Long jumper Marestella Torres-Sunang has won the Gold medal at the Kazakhstan Open
- Torres-Sunang is set to be a third-time Olympian after competing at the 2008 and 2012 Olympics
- The Philippine Olympic Committee said that the country's delegation will include a minimum of 11 Filipino athletes for the upcoming 2016 Summer Olympics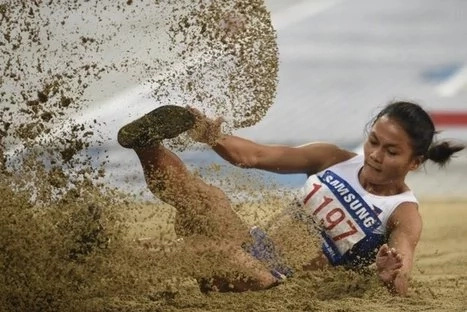 Filipino long jumper Marestella Torres-Sunang captured the gold medal at the recently concluded Kazakhstan Open athletics championship after breaking a new national record.
Reports said that the 35-year old athlete leaped to 6.72 meters in the women's long jump event last Monday, which is just under the 6.70-meter Olympic standard for the Rio Games. Her current attempt surpassed her Philippine record at 6.71 meters which she achieved at the 2011 SEA Games in Pelambang, Indonesia.
Once certified by the International Amateur Athletics Federation (IAAF), Torres-Sunang will be on her way to Rio. Part of the certification process is getting the wind gauge report, which could invalidate a performance if the trailing wind exceeds more than 2 meters per second.
READ ALSO: Your Rio Olympics experience can be a disaster; here's why
Earlier, Torres-Sunang lost her slot in Rio to marathoner Mary Joy Tabal, who broke the Olympic standard of 2 hours and 45 minutes in women's marathon in an event in Canada by clocking in at 2 hours 43 minutes and 30 seconds, and earned her rightful slot to the country's Olympics delegates.
Prior to Tabal's successful Olympic bid, Torres-Sunang was supposed to compete through a "universality rule" wherein an athlete is allowed by the International Olympic Committee (IOC) if there's only one qualified athlete to represent the country in the games. The IOC has a policy that each country is only allowed one male and one female in athletics under the "country representation policy".
READ ALSO: Brazil experiencing financial breakdown ahead of Olympics
If the IAAF approves Torres-Sunang's performance, she will join fellow athletes Rogen Ladon and Charly Suarez for boxing, taekwondo-jin Kirstie Elaine Alora and table tennis star Ian Lariba who are officially qualified to compete in Rio.
Other athletes are still waiting for confirmation from their respective international federations after having reached the qualification standards.
Torres-Sunang joined the national team in 1999 and only paused to give birth in early 2014.
RELATED: FIBA Olympics team caught a "spy"; here's what they did
Source: Kami.com.ph