- President Duterte's strict stance against illegal drugs is taking its toll on the illegal drug trade activity in the country 
- Last Sunday, several suspected drug pushers were found dead in Quiapo
- Guns, illegal drugs, and cash were found on the suspects together with a sheet of paper which identified them as pushers
The number of drug-related deaths has increased as eight more suspected drug pushers were killed in Tondo and Quiapo last Sunday morning, raising the count to 42 since the May 9 elections. Drug pushers have since surrendered, been arrested, or killed following President Duterte's orders.
Six of the eight men were killed separately in firefights with the police in Quiapo and Tondo while the remaining two were found on C. Palanca Street in Quiapo "[with] their faces covered with duct tape while nylon cords were looped around their necks. Both had a sheet on paper on their chest with 'pusher' written on it," as stated in the report filed by Police Officer III Marlon San Pedro of the Manila Police District (MPD) Homicide Unit.
READ ALSO: Ozamiz City wages war on drugs with Oplan Tukhang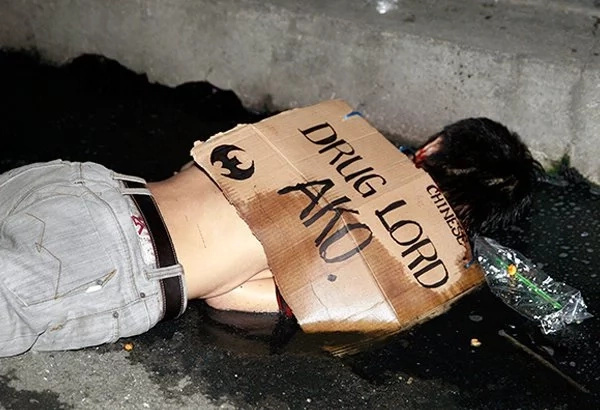 According to a report submitted to the Manila Police District homicide division, five of the victims were killed in a follow-up anti-drug operation was carried out in the Golden Mosque compound in Quiapo, an area notorious for its reputation among drug dealers and users, and was headed by Chief Inspector Michael Garcia of the Barbosa Police Precinct.
Police said the five men yielded two .45-cal. and two .32-cal. handguns, P2,650 in cash and less than 200 grams of shabu. The report also added that the operation was based on information that there was "a group responsible for the transportation and shipment of illegal drugs" in the area.
One of the wives of the five who were killed in Golden Mosque, however, denied that a shooting took place saying that her husband wasn't even armed and was only trying to fix their water supply when he was shot by the police. - EL, Kami Mmedia
RELATED: Bato relieves members of NCR and QC anti-drugs unit
Source: Kami.com.ph