- NBI Director Dante Gierran exposed the malicious acts of some NBI personnel including extortion of money and adultery
- He said he will not allow dishonest and immoral people in the Bureau during his administration
- Gierran is ready to remove these officials from office if they are not willing to change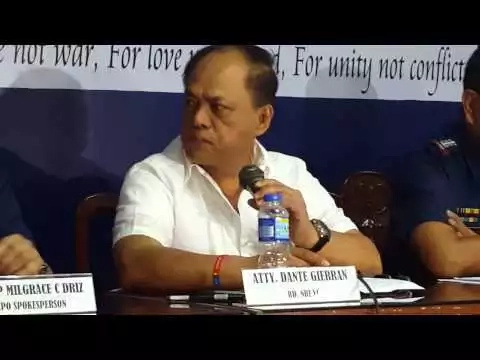 During the first flag ceremony of the newly appointed NBI Director Dante Gierran at the National Bureau of Investigation (NBI) office on July 4, expletive words flew all over the place as he spoke before the officials and personnel.
The new NBI Director threw heavy strong words towards the NBI officials involved in mischievous act related to their service.
For one, he exposed one NBI agent whose name he did not mention who, according to him, is taking advantage of the wife of one jail inmate.
READ ALSO: NBI confirms synthetic drugs found in victim's body of Closeup concert tragedy
"Put****na 'nyo! Kahayupan 'yan." he said angrily. (Expletive! That is animal-like!)
"Pogi ka, pero huwag mong gawin 'yan dong. Kasi nakakulong na yung asawa tapos yung asawang babae ay kina***tot mo." (You are handsome, yes. But don't do that, boy. The husband is already in prison and you are now fucking the wife.)
He said that these kinds of people who are immoral and who lacks dignity have no place in the office and should be thrown away. They only cause bad reputation to the agency, he said.
According to Gierran, corruption is also one of those that he will be focusing on during his administration.
READ ALSO: NBI accused of extortion, planting evidence
It surprised the crowd when Director Gierran revealed one official of the agency who had extorted millions of pesos.
"Tama ba yan? 30 million? At pinababa at pinababa at pinababa," he noted. (Is it right? 30 million? Then lowered, and lowered, and lowered?)
He revealed that the usual tactic by the incumbent official is to ask for down payment first before acting on the project. He said he will not allow this kind of scheme anymore.
READ ALSO: Concert handlers to face charges – NBI
Aside from corruption and dishonesty, he also commented on the issue of infidelity of NBI officials, one which the latter consider is already personal.
He did not allow the issue of adultery to just pass without mentioning.
"That's a warning for them to not do for if they will not change, I will change them," he said on an interview after the ceremony is over.
After the flag raising ceremony, the new NBI director Gierran met with the officials and personnel he castigated and criticized telling them he is more than ready to expel them from their positions should they continue with their dirty side-jobs.
RELATED: Ping Lacson backs Duterte's fight against drugs
Source: Kami.com.ph