Kevin Durant explains decision to join Warriors
-Kevin Durant joins the Golden State Warriors signing a two-year contract for $54.3 million dollars
-This deal was made possible due to the increase of the maximum salary cap of this year's collective bargaining agreement
-The balance of power has shifted in favor of the Warriors and they are the obvious team to beat next season
- This move will inspire other players to play for winner rather than stay loyal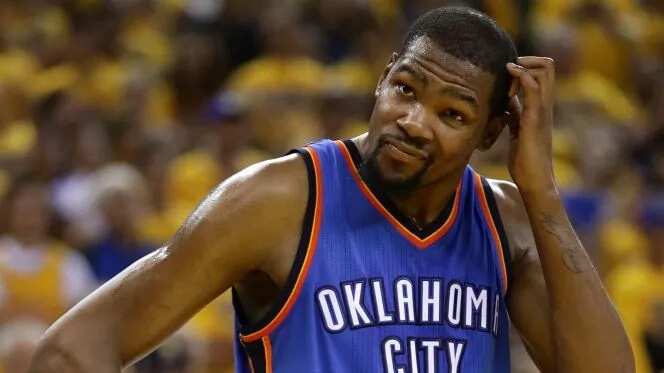 It seems that players choosing to play for the winning team have become a likelier trend over loyalty and/or financial importance. Lebron James left Cleveland a few years back to form the Big 3 in Miami, Pau Gasol left the lakers and joined the Bulls two Julys ago thinking it was a championship team, he now joins the Spurs in San Antonio - an obvious championship contender. Dwayne Wade has also signed to join the New York Knicks to play alongside Derrick Rose, Carmelo Anthony and Joakim Noah.
The balance of power continues to shift every year. There are a lot of factors that contributed to this trend, such as the earlier mentioned precedence, increased max salary cap, and players just wanting to play for the stronger teams.
Just yesterday, Kevin Durant announces his decision to join the 73 winning Western Conference Champions Golden State Warriors, a decision that disappointed many NBA fans all over the world.
READ ALSO: Warriors play without Draymond Green in NBA Finals Game 5 and loses
Durant spoke with the Player's Tribune and explains his unpopular decision. He said that the primary mandate he had for himself in making such decision was based on the potential for his growth as a player. He added that he is at a point in his life where finding an opportunity that encourages his evolution as a man, growing up and moving out of his comfort zone is as important as becoming a greater basketball player.
It seems that Kevin Durant is really looking forward to moving out to a new city and community that would allow him to start a different life and explore different potentialities.
The Warriors may not have taken home the trophy during the recent NBA Finals but it gave a remarkable performance last season breaking the '95-'96 Bulls' regular-season record with 73 wins and gave the Cavaliers a run for their money had Green avoided suspension during game 5.
READ ALSO: Cavs wallops Warriors in Game 3, cut series to 2-1
And now, the Warriors look to add to its arsenal, former MVP, Kevin Durant who averaged 27.4 points per game last season.
A contract like this was not supposed to happen when owners locked out players in a labor stalemate that shortened the 2011-2012 season. This was due to the formation of the Big 3 in Miami, putting together James, Wade and Bosh in the 2010 off-season. The lockout cried for "competitive balance" and shaped the way to a more balanced collective bargaining agreement (CBA).
The current CBA, however, features more punitive luxury tax and enticements for teams to keep their stars in form of an extra year and higher annual raises. Also, there is a massive increase of the salary cap.
READ ALSO: Bench mob helps Golden State Warriors beat Cavs in NBA Finals Game 1
This $24 million jump in salary cap this summer and another jump next year is how Durant and the Warriors were able to come with terms signing a two-year, $54.3 million player option contract.
Durant would have had more had he stayed with the Thunder, considering that the cap jumps to a possible $110 million next summer.
Other teams have not finished making their off-season roster moves but the Warriors are looking to be the obvious team to beat for this upcoming season. They, of course, need to prove it on the court. Star-studded teams do not guarantee rings after all; Miami Heat with the Big 3 were 2-2 in the NBA Finals, the Lakers with Nash and Dwight Howard had an awful season, but the warriors are definitely going to be a force to be reckoned with.
Durant's decision clearly stunned the entire league. Teams will have to step up, change strategy and adjust. We'll see how this off-season turns out.
RELATED: Irving, James tow Cavs past Warriors in NBA Finals Game 5 win
Source: KAMI.com.gh