Robredo and Duterte held first official meeting in Malacañang
- President Duterte and VP Robredo met today at Malacañang
- They had their first informal meeting last Friday during the AFP ceremony
- The topic of their meeting remains to be a mystery
Vice President Leni Robredo and President Rodrigo Duterte finally had their first official meeting at Malacañang Palace today.
The two top officials met inside the Malacañang Study Room Monday afternoon, around 3:30 pm. Although the meeting was expected, it was not open for media coverage.
However, Radio TV Malacañang (RTVM) gave the people a sneak peek of their event through Facebook Live.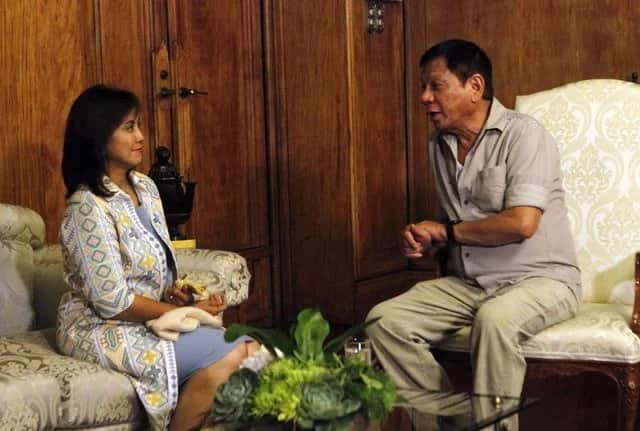 READ: Duterte-Robredo first meeting: Awkward!
The video shows Duterte offering Robredo a snack. However, the rest of their conversation cannot be heard by the public. It only shows the two officials smiling at each other. The topic was unknown.
The meeting was nothing formal – at least in terms of their wear. Duterte wore a simple collared shirt while Robredo wore a dress layered with a printed coat.
Based on reports, Duterte escorted Robredo outside the vehicle, all the way to her vehicle, which was waiting outside the Palace.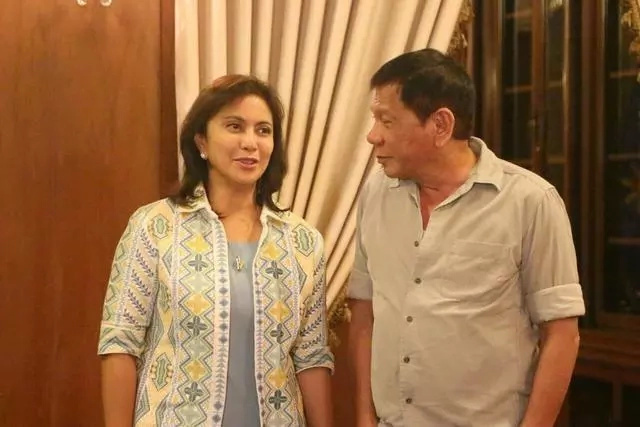 When Robredo was about to leave, she slightly bowed down (as a sign of respect and courtesy) and shook Duterte's hand. However, Duterte said that he does not want Robredo to do it.
"Please do not bow down. Nae-embarrass ako (I am embarrassed)," he said.
The meeting that took place today was considered to be the first formal meeting of the two top officials.
READ: Robredo to be Duterte's 'First Lady'?
It can be recalled that they meet on Friday, July 1, during the Armed Forces of the Philippines change of command ceremony.
The meeting was one of the most-awaited and most-anticipated events in the country. Everybody was looking forward to how Duterte and Robredo would get along after the former did not give any Cabinet post to the latter.
It can be recalled that Duterte has not offered Robredo any Cabinet position, as a sign of respect to the friendship he shared with Senator Ferdinand "Bongbong" Marcos Jr. Duterte had said he did not want to hurt the feeling s of Marcos. Robredo, on the other hand, is not expecting any position from the President anymore, saying that she respects his decision.
Source: KAMI.com.gh