Saicy, 'Hachiko of Davao' still waits for her master's return
- Saicy, the dog from Davao, still hopes that her master would come back home one day
- She refuses to eat since the death of her master
- She has become the 'Hachiko of Davao'
'Hachiko of Davao' is still waiting for her master to come back home even after the man's burial.
Saicy, the dog, is still somehow hoping that her master, Elenito Bandayanon, would return home and take her out to eat street food.
Elenito died last June 18 due to cardiac arrest.
READ: Vietnamese girl finds missing dog roasted and sold
Saicy was first known after a photo of him waiting for his master outside the emergency room in a Davao hospital went viral. Her master was rushed to the hospital by their neighbour, and Saicy did not hesitate to accompany him to the hospital.
Marrisa, Elenito's wife, said that Saicy has been lacking in energy and appetitie after her husband was buried. She said that their efforts to continue Saicy's routine with Eenito, like eating street food during afternoons, are not very much effective.
During Elenito's wake, Saicy can be seen on top of its owner's coffin, as if trying to wake him up.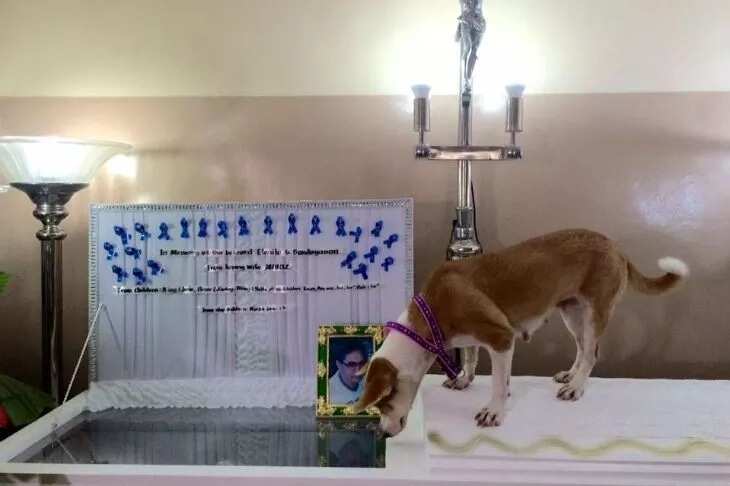 The story of Saicy was first discovered when Alvin Ceria posted a photo of the dog. He works for the Metro Davao Medical and Research Center. He said that he saw the dog barking outside the ER while Badayon was inside and fighting for his life.
"The dog was barking, it wanted to go inside the ER," Ceria said. "Sad to say the patient died. The dog's owner may have been dead, but the love of the dog remains," he added.
READ: Meet the Hachiko of Davao; her story will make you cry
Saicy was finally allowed to go inside the emergency room after Elenito was pronounced dead. The dog touched Elenito for the last time and howled – a scene that broke the hearts of those inside the room.
Saicy has been called the "Hachiko of Davao." Hachiko is am Akita Inu dog in Japan in the 1920s who patiently waited for his master, Professor Hidesaburo Ueno, at the train station. After the professor died, Hachiko continued to wait on the same spot for years until his death.
Source: KAMI.com.gh