VP Leni's win celebrated in China
- Naga celebrated the victory of Vice President Leni last Saturday
- Meanwhile in China, 
- Jesse Robredo, the late husband of the Vice President had roots from China
Vice President Leonora Robredo was just inaugurated as the newest Vice-president of the Philippines. Her inauguration was conducted separately, but on the same day with President Rodrigo Duterte.
On July 2, Saturday a celebration was thrown in Jinjiang, China in the province of Fujian, the root of the ancestors of her late husband, Jesse Lim, Lim being Jesse Robredo's Chinese family name.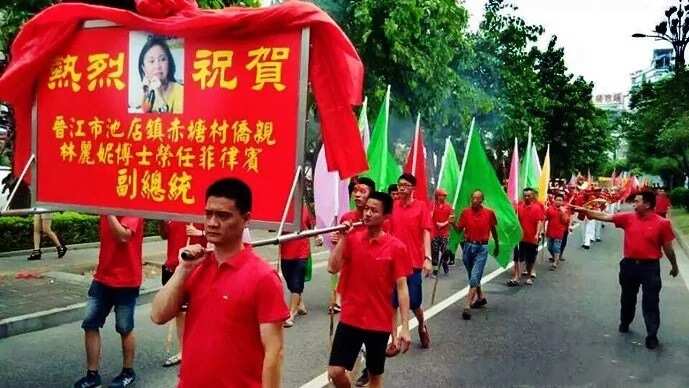 The residents marched to honor the new Vice President bearing banners that read "Jinjiang, Fujian province congratulates our kababayan, Atty. Leni Lim, Vice President of the Philippines!"
READ: Robredo to be Duterte's 'First Lady'?
According to the office of the Vice President, this is a "tradition in China for someone who has achieved something exceptional."
Meanwhile, in Naga City, the newly inaugurated Vice President's hometown, celebrated in festivities as their fellow Bicolano stepped in as the second highest official of the land.
Last Saturday, July 2, more than five thousand people joined the mob.
READ: Read: Statement of Robredo about her inexistent cabinet post
The city government allowed the closure of two blocks of the main business district of Naga from afternoon to late in the evening.
Vice President Leni Robredo arrived around 7:30 p.m. together with her daughters Aika, Tricia, and Jillian who were welcomed with a 10-minute grand firework display that marked the beginning of the celebration.
In her speech, VP Leni urged the public especially her fellow Bicolanos to be whole-heartedly supportive of the Duterte administration although the two did not come from the same party.
READ: Guess what VP Robredo rode to Naga – what an inspiration!
"The time of fighting has ended. Now is the time to support the present administration and leave behind the things that divided us," she said.
She said that her being elected as Vice President shouldn't be wasted and instead use it as an opportunity to bring the much needed attention for Bicol.
To add to the celebration, university marching bands and cheering squads were featured in the said thanksgiving party.
READ: Duterte-Robredo first meeting: Awkward!
The song Tunay na Pagbabago was also sang by local artists, the song was composed particularly for her late husband Jesse Robredo, who is the longest serving mayor in the city.
To cap the night, a "One Percent to Vice President  Dinner Party" was prepared by the Buenaflor couple especially for the Vice President. -RY, Kami Media
READ: VP Robredo to Filipinos: My office is open for all of you
Source: KAMI.com.gh