- A policeman was captured on video breaking framed pictures of Manila Mayor Joseph Estrada inside the police headquarters
- He then took out his gun and fired shots as the police confronted him
- The SWAT team was able to corner and capture the suspect
A video of a policeman gone mad inside the headquarters of the Manila Police District (MPD) on UN Avenue on Sunday has gone viral.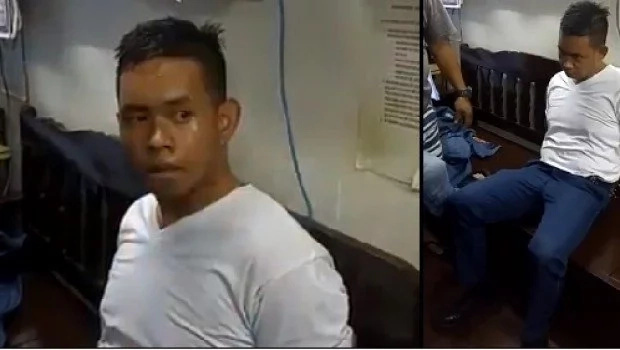 The suspect – PO1 Vincent Paul Solares – took and broke framed pictures showing MPD police officials with Manila Mayor Joseph Estrada and then proceeded to use his gun to fire several shots inside the MPD headquarters.
According to Solares, it was his anger towards Estrada that prompted him to use his gun and destroy his framed pictures in the facility. "I don't like people who make others suffer," the cop explained.
READ: PNP conducts drug test, 9 cops positive
MPD police investigators were still trying to find out which specific police station Solares was assigned to and whether he came to the place of incident on his own or was taken there by force.
There was an unverified report that Solares was arrested earlier for attacking people who wore orange shirts because that color was used for Estrada's mayoral campaign.
While taking and breaking the framed pictures from the walls of the headquarters, he told a reporter from the Inquirer who was taking a video of him to keep recording his strange behavior.
READ: 5 reasons why Ronald "Bato" Dela Rosa is a badass PNP chief
Due to the loud noises created by the chaos, MPD's PO2 Amelito Lopez came out of his office and confronted the suspect. However, Solares ignored him.
When SPO3 Ronald Gallo arrived at the scene, Solares brought out his 9-mm handgun and pointed the weapon at him. This prompted the other policemen to call the Special Weapons and Tactics (SWAT) unit.
Solares shot at the members of the SWAT team when they arrived and then started to run to the second floor. However, the SWAT unit was able to corner the suspect in an office.
READ: READ: Bato's message to police who protects drug lords
"He threw down his gun and surrendered after seeing the number of SWAT troops," Gallo said.
(Video from youtube/inquirer.net) -DN, Kami Media
Source: Kami.com.ph