- Ian King recently came out as transwoman Angelina Mead King
- Her family and wife Joey 100% support her
- Her outing is a step forward for LGBTs around the Philippines
Celebrities have taken to social media to express support for Angelica Mead King, formerly Ian, spouse of TV host and model Joey Mead King.
On Instagram, Angelina's brother Atticus posted a picture of them together, introducing his "former kuya who is now my ate."
Gang Badoy Capati from Rock Ed Philippines took to twitter to show her support for Angelina, expressing admiration for her bravery and outing.
READ ALSO: LOOK: Joey Mead's husband is now a trans woman
Some of Angelina's friends chose to reach out through Facebook, writing statuses about how proud they are of her and how happy they are about Joey's support.
READ ALSO: LOOK: UN to appoint first ever LGBT rights watchdog
Yesterday, July 2, Angelina posted this picture on her Instagram account, where she announced it all. Friends commented their messages of inspiration and support on her photo.
READ ALSO: Church clarifies Pope's call to apologize to LGBT community
Iya Villania

Teresa Herrera

Bianca Gonzalez-Intal

READ ALSO: Pope Francis to Christians: Apologize to gays
Bianca Valerio

Miles Aubrey

Today, July 3, Angelina posted a message on Instagram with her other account, @hailtothe_king. She thanked everyone, fans and friends alike, for their love and support, and expressed gratitude for their acceptance of her true self.
READ ALSO: Orlando shooting scares LGBT community to attend LGBT Pride March in Luneta?
Angelina manages Victoria Court and is behind the Car Porn Racing automotive business. She married Joey back in Los Angeles last 2011. Joey has been nothing but supportive of her husband (who is now her wife), and Angelina has called her her "rock and number one supporter".
To this, Joey replied: "love is love".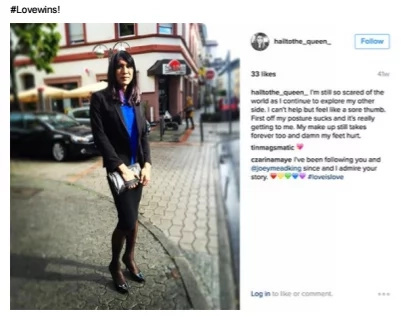 The Philippines, though one of the Southeast Asian countries with the most progressive views on sexuality, is still not a very friendly nor accommodating place for homosexuals and transgenders alike. News of murdered transgenders such as Jennifer Laude, of suicides such as Julia Buencamino's, and the disenfranchisement of LGBTs in general around the country have disheartened the movement, and greatly hindered progress and social acceptance.
Angelica is certainly brave for embracing herself, and for allowing herself to become a beacon of inspiration to all LGBTs in the Philippines. - MB, Kami Media
READ ALSO: Philippines' most horrifying LGBT hate crimes
Source: Kami.com.ph