- Polio survivor Gina Cornejo lodged separate complaints against two bus companies for the discrimination she faced
- Land Transportation Franchising and Regulatory Board (LTFRB) and Land Transportation Office (LTO) fined the two bus companies
- The involved drivers and conductors were also ordered to undergo seminar and suspension
A polio survivor filed a complained against two bus companies for their supposed failure to provide seats for persons with disabilities (PWD).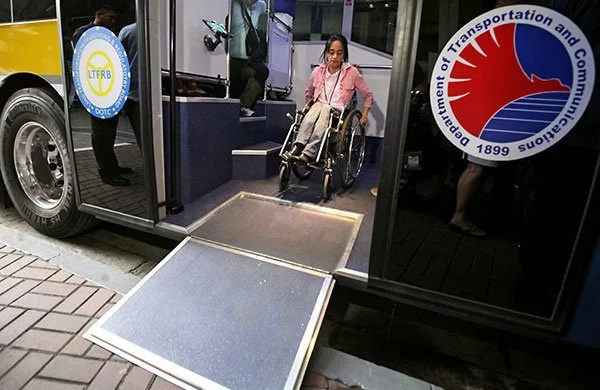 Gina Cornejo went to Land Transportation Franchising and Regulatory Board's (LTFRB) office and hurled the complaint against Green Star Express Inc. and LLI Bus Company Inc. The complaint was based on a video she took of a Green Star and LLI buses where front row seats were occupied by men instead of reserving it for PWDs, senior citizens, and pregnant women.
Cornejo said that she showed her PWD IS to the conductors, but she was just ignored.
READ: 'There are no 'reserve seats' in PUVs' – LTFRB
The LTFRB ruled in favor of the complainant fining the two bus companies P50,000 each. The drivers and conductors involved were also fined P5,000 each for being arrogant and discriminatory.
Green Star driver Pedro Belardo Jr. was suspended for 6 months by the Land Transportation Office (LTO) after LTFRB asked them to order the suspension. Conductors Martin Catabay of Green Star and Daryll Espiritu of LLI will also undergo a seminar at LTO as per the office.
LTFRB Chair Winston Ginez, and board members Ariel Inton and Ronaldo Corpus signed the orders against the two bus firms.
READ: Palarong Pambansa runner gets offers from US universities
In a memorandum by the LTFRB, public vehicle operators should grant privileges to some sectors in society. The memorandum reads, "The PUV operator shall not deprive passengers granted fare privileges and discounted fares with appropriate seats."
Protection from discrimination is also included in the memorandum: "It shall be unlawful for any PUV operator to give undue preferences or make unjust discrimination in his/her/its service."
READ ALSO: PWD Bill Signed Into Law
Source: Kami.com.ph