- Samahan ng Progresibong Kabataan (SPARK) camped outside Quezon City Hall to protest against minor curfew
- SPARK protested against some of the regulations implemented by "Oplan RODY"
- Joanne Lim, the spokesperson of Spark, shared that underprivileged youth are the most vulnerable in the implementation of the ordinances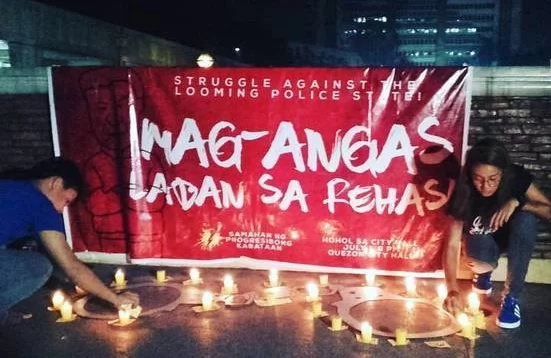 A Youth Group gathered and camped outside the Quezon City Hall, Friday evening, to protest against minor curfew ordinance which bans them to loiter outside their houses from a certain time in the evening.
A group of students, who are members of Samahan ng Progresibong Kabataan (SPARK) which was established last year, protested against the curfew ordinances as Joanne Lim, the spokesperson of Spark, explained that while these ordinances are made for the protection of minors from being crime victims, these people are rather alleged as criminals.
"When they're outside during curfew hours, they have to prove that they're working students, (or) that they came from some place that is very valid. So in that sense, what happens is that you have to prove that you're innocent," Lim said in an interview.
READ ALSO:Why Oplan Rody's curfew for youth is illegal
The group protested against "Oplan RODY" or also called as "Rid the Streets of Drunkards and Youths". The group aims to go against the implementation of some ordinances in Metro Manila in line with the new president's platform on peace and order.
Lim stated that these ordinances does not consider the changes brought about by the situations faced by different communities, and mentioned new education program which is K to 12. She then elaborated that since there are many other schools that are not yet ready for the new education curriculum, there will possibly be multiple shifts where some students might go home late at night.
Lim shared that the poor communities are the most vulnerable as the Oplan Rody has not yet operated along privileged communities. The youth who are part of the underprivileged communities, according to her, have such traumatic experiences with the police. She then said that it will be better to bring the youth back to their homes rather that to the police if the ordinances really claim to protect the youth.
READ ALSO: Youth group calls Oplan Rody a shade of Martial Law
Reports say that some youth offenders were made to do push-ups and were even jailed in some local governments that are part of Metro Manila where the ordinances are already implemented.
SPARK proposed that there should be coordination with Commission on Human Rights (CHR) and the Department of Social Welfare and Development (DSWD), and that Oplan Rody should rather be community-based than nationwide.
READ: Metro Manila implements 'Oplan Rody'
Source: Kami.com.ph