- An anticrime watchdog challenged Senator De Lima to resign and be a lawyer of former president Benigno Aquino III
- De Lima defended Aquino against the complaints thrown at the former president over the death of SAF 44
- The complaint said that Aquino is guilty of reckless imprudence resulting to homicide
Volunteer against Crime and Corruption (VACC) challenged newly elected Senator Leila De Lima to step down from office and act as defense lawyer for former President Benigno Aquino III after she defended him against the complaints.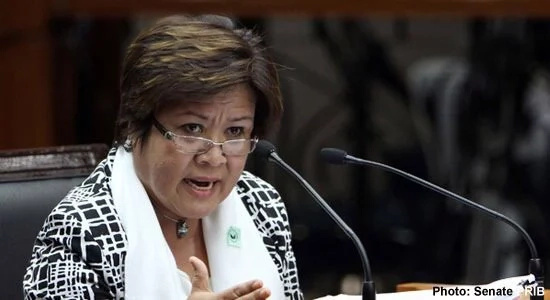 VACC, an anticrime watchdog filed a criminal complaint against Aquino over the death of 44 elite police operatives in January last year, also known as the Mamasapano encounter, but De Lima came to his defense by saying that the case was "absurd" and that it was only a media stunt.
"No amount of legal imagination can manipulate the definition of homicide and murder under the Revised Penal Code so as to implicate the police officials involved and President Aquino himself," said De Lima.
READ: De Lima, Pacquiao fail to attend Senate orientation
Dante Jimenez, chair of the watchdog has then challenged De Lima to defend Aquino in court since she had supposedly been bias for the former president, "[VACC] reminds de Lima that she is no longer a secretary of justice but a senator of the land. De Lima can resign as a senator and we will welcome her to be a defense lawyer of Aquino. We understand that she will head the Committee on Justice of the Senate so she has exposed herself already to be a biased lawmaker," said Jimenez.
According to the complaint, Aquino committed reckless imprudence resulting in homicide and that he should be liable "due to negligence, imprudence, lack of foresight and lack of skill in the planning, preparation and execution of Oplan Exodus."
The complaint was also hurled at Alan Purisima, defeated senatorial candidate Getulio Napenas.
READ ALSO: Aquino criticizes the multiple homicide case
Aquino already reacted to the complaints. He said: "The loss of the SAF 44 is a tragedy. I reiterate that if my instruction to then SAF Director General Getulio Napenas were followed to the letter, perhaps the risks of the operation could have been minimized and that this tragedy could have been averted."
Source: Kami.com.ph